Maafe - Chicken in peanut sauce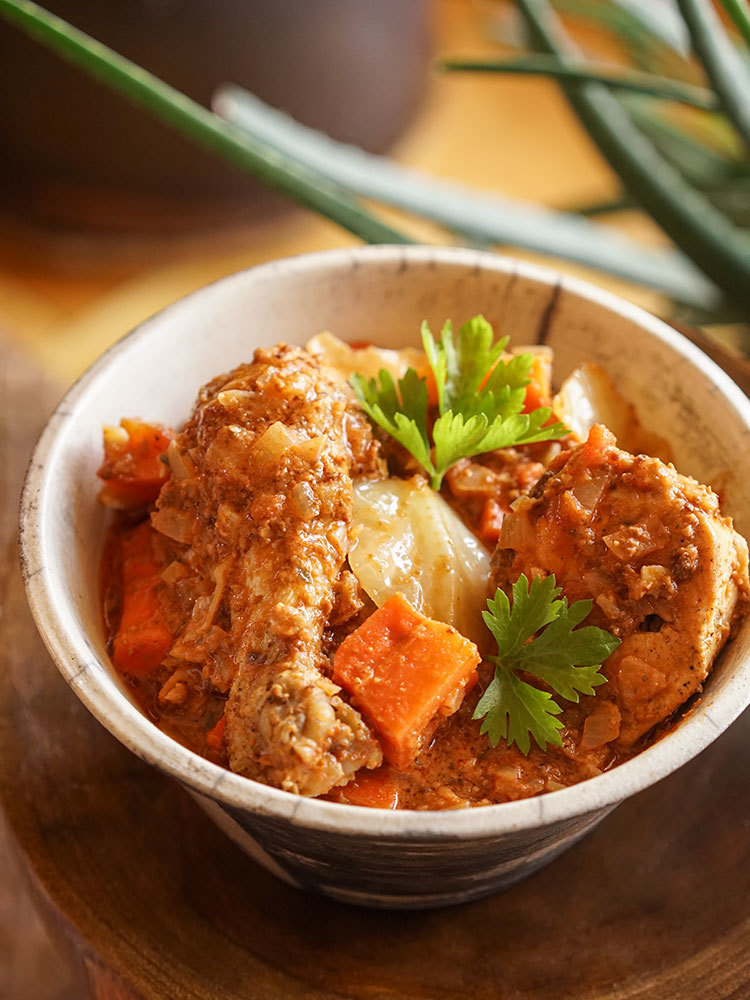 We proudly present our own version of the West African classic! The traditional method calls for little more than frying the chicken in oil, then letting in simmer a good 15 minutes in the sauce. The extra step keeps the chicken extra tender. 
Ingredients
1 chicken, cut into 12 pieces
---
1 tsilanidimilahy or habanero pepper
---
½ tsp Korarima Ethiopian cardamom (opt.)
---
2 tsp Grains of Paradise or Black pepper
---
6 Tbsp ginger, chopped
---
6 cloves garlic, chopped
---
2 cups vegetable oil
---
1½ raw peanuts or all-natural peanut butter*
---
3 cups onion, chopped
---
1 Tbsp thyme
---
Salt and pepper to taste
---
¼ cup tomato paste
---
2 cups chicken stock or water
---
3 medium tomatoes, chopped
---
¼ green cabbage, chopped into 1-inch cubes
---
6 medium carrots, chopped into matchsticks
---
Juice of 2 limes 
---
*Avoid standard peanut butter, which often contains added sugar and fat. 
Method
1

Remove skin from chicken pieces, discard, and place pieces in a bowl. Grind chile, cardamom, and pepper and add to the chicken with garlic and ginger. Mix well and let rest 15 minutes.

2

Heat oil in a large pot on medium-high. Drain the chicken pieces and set the marinade aside. Brown chicken on all sides without cooking all the way through. Keep in mind that the breast pieces will require less time than the legs and thighs.

3

Set aside the chicken and reserve ½ cup cooking oil for later.

4

If using whole peanuts, fry them in the oil until golden brown. Spread on a paper towel and drain well. Set aside.

5

Return the reserved cooking oil to the pot along with the chopped onions and reserved marinade. Sauté on medium until the onions are falling apart.


6

Add the thyme, salt and pepper and tomato paste. Sauté a few minutes, stirring regularly, until the oil begins to redden.

7

Add tomatoes and stock and simmer for 10 minutes.

8

Place the peanuts in a food processor and purée into a chunky peanut butter. Add to the pot and stir for 2-3 minutes to incorporate it thoroughly and it's smooth.

9

Add the cabbage and carrots to the sauce and simmer for 5 minutes more.

10

Add the chicken pieces and cook for 10 minutes more. Incorporate lime juice. Simmer at least 15 minutes before serving.