Makarounes tis kassou - Pasta with Carmelized Onions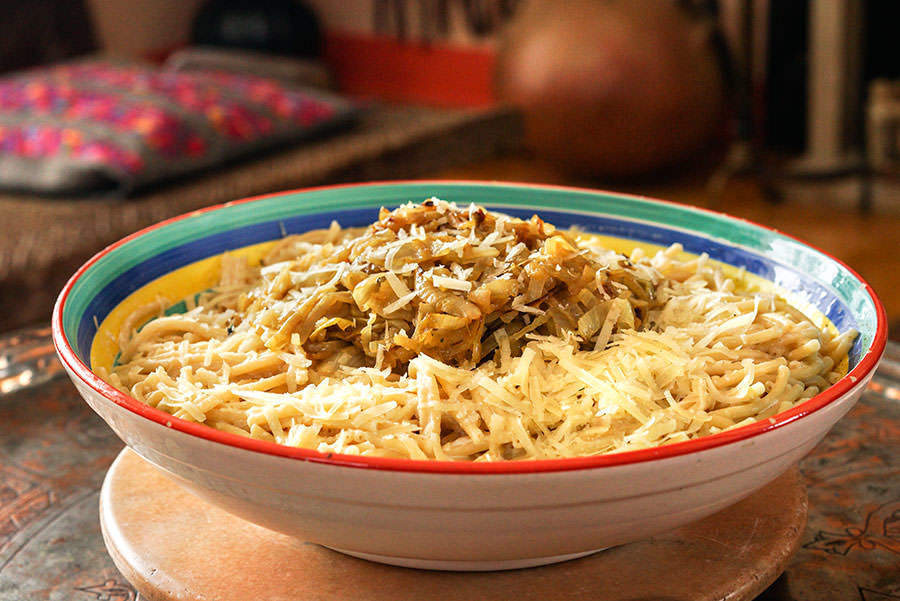 This impressive recipe offers a luxurious taste with very few steps. So wonderful is this recipe that we had no choice but to post it- despite the fact it contains almost no spices.
Ingredients
5 Tbsp olive oil
4 large onions, sliced
1 pack Greek macaroni or penne
2 cups thick yogurt (sheep's milk, if possible)
¾ cup kefalotyri cheese or romano, grated
Salt, pepper
Method
1

Put the onions and oil in a large pot and cook, over medium heat, until they are well browned (15-20 minutes). Add salt and pepper.

2

Break the macaroni into 2 inch pieces. Cook in boiling, salted water until they are just about al dente.

3

Just before draining the pasta, spread the yogurt on a large plate. Add one ladleful of the cooking water and mix well.

4

Add the drained pasta, half the cheese, and mix well.

5

Garnish with the remaining cheese, onion and a splash of olive oil. Serve immediately.