Mango Curry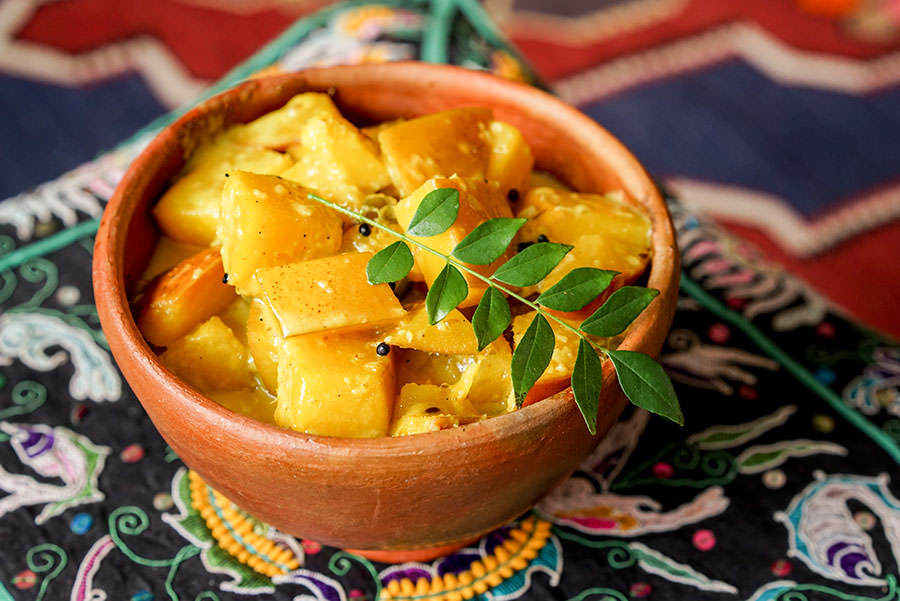 You'll need firm green mangoes to make this recipe work. Don't worry about peeling the mangoes: The cooked skin is great and stays firm while the flesh melts into the sauce and thickens it.
Ingredients
4 very firm medium mangoes
1 tsp turmeric, ground
2 tsp coriander, ground
4 cloves garlic
2 Tbsp ginger
2 shallots
Fresh green chile to taste
1 Tbsp mustard seed
1 tsp cumin
10 dried curry leaves, rehydrated
4 Tbsp coconut oil
3 cups coconut milk
Salt and pepper to taste
Juice of ½ lemon or lime
Method
1

Wash mangoes thoroughly and chop into 1-inch cubes. Discard seeds.

2

Place turmeric, coriander seed, garlic, ginger, shallots, and chile in a food processor. Purée. Add some water and coconut milk if needed.

3

Heat a pot on medium-high. Add oil and mustard seed. When they begin to change color, add cumin and curry leaves. Sauté for 5 seconds and incorporate curry paste, then sauté until cooked and fragrant, 3-4 minutes. Pour in coconut oil and bring to a boil.

4

Add cubed mango, salt and pepper. Cook until the mango falls apart and the skin softens. Taste and incorporate lemon juice if you want to add acidity. Let stand a few minutes before serving.