Maple baked ham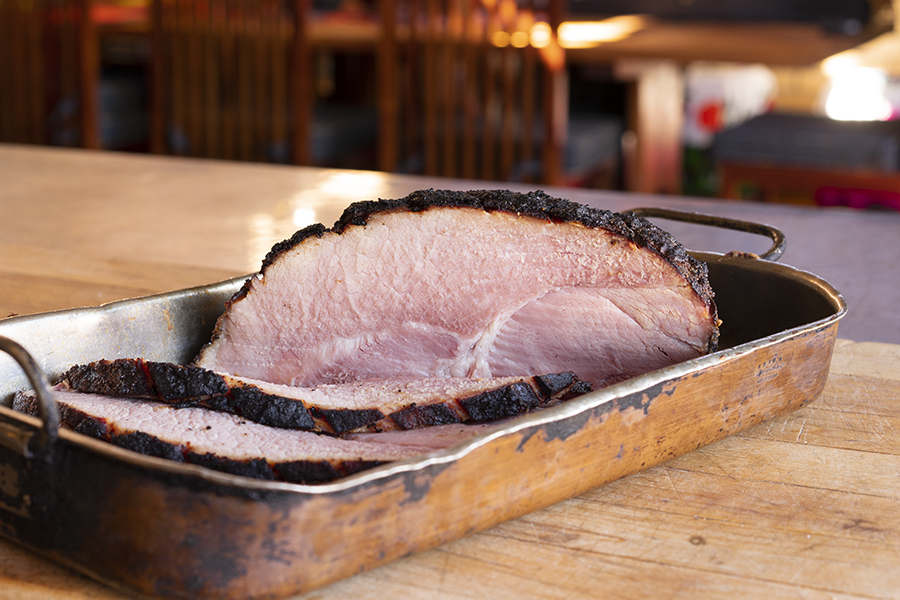 A family recipe that's emblematic of our Christmas, Sugar Shack and Easter celebrations, or in fact, any time we deserve a well seasoned, caramelized, baked ham. Pay close attention to the water level in the baking dish during cooking, to make sure that the liquid – or eventual spicy/sweet gravy – doesn't burn off.
Ingredients
1 ham on the bone 3-4 lbs
1 can of Maple ham spices
2 Tbsp cider vinegar or wine
2 Tbsp rum or white wine or water
Method
1

Heat the oven to 350 °F.

2

Should it apply, remove the cheese cloth, the rind and any excess fat from the ham. Using a knife, make a grid on any fat remaining on the ham.

3

Pour the ham spices into a bowl. Incorporate the vinegar and rum. Let rest for 5 minutes in order to rehydrate the spices and make a paste.

4

Rub the paste on all surfaces of the ham. Place in a baking dish, pour ¼-inch of water into the bottom of the dish.

5

Bake 1 ½ hours in the oven. If necessary, add water during cooking so that the liquid does not dry up or burn.

6

Remove from the oven and let rest 15 minutes before slicing. Serve drenched in gravy.