Maple glazed demi-sel duck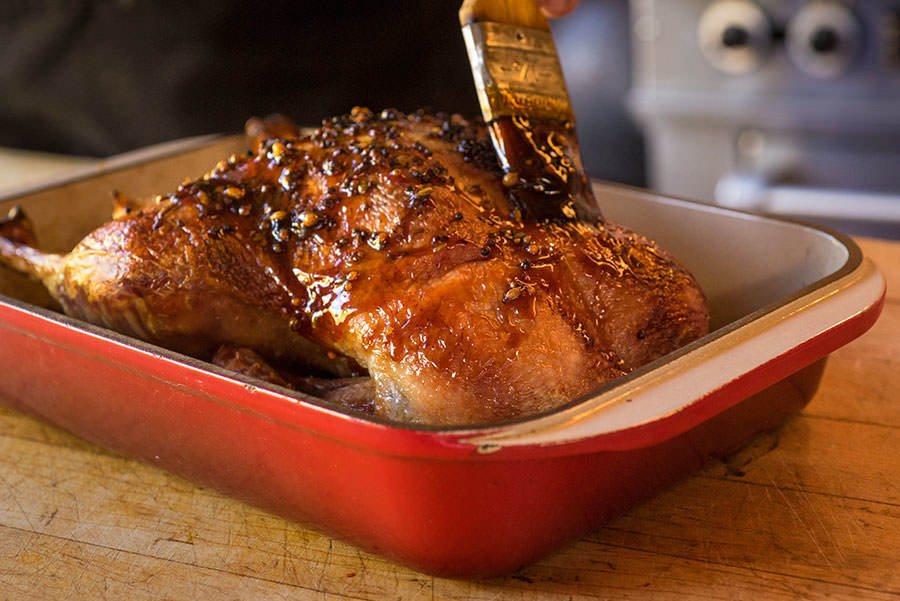 Brining the duck makes it deeply tender- in addition to improving the flavour, it also prevents the meat from drying during cooking.
Ingredients
1 whole duck
8 cups water
½ cup salt
⅔ cup sugar
3 Tbsp brining spices
½ cup maple syrup or honey
2 Tbsp soy sauce
1 vinegar of your choice
Method
1

Pour the water, salt, sugar, and spices in a pot. Boil for 10 minutes. Let cool.

2

Wash the duck well in water. Place in a container just large enough to hold the duck and the water. Pour the brine over the duck and refrigerate for 12 hours.

3

Remove the duck from the fridge and put on a plate. Refrigerate for 12 to 24 hours, uncovered, so the skin dries.

4

Throw away the brine but reserve 2 Tbsp of the spices.

5

Heat the oven to 375°F. Put the duck on a roasting pan and cook for 1 hour 15 minutes.

6

Meanwhile, pour the maple syrup, soy sauce, vinegar and reserved spices in a small pot and boil for 2 minutes (careful, it may boil over).

7

After an hour and fifteen minutes of cooking, brush the duck with the glaze. Roast for another 10 minutes.

8

Remove from the oven and rest for 15 minutes before serving.