Maple Glazed Pork Meatballs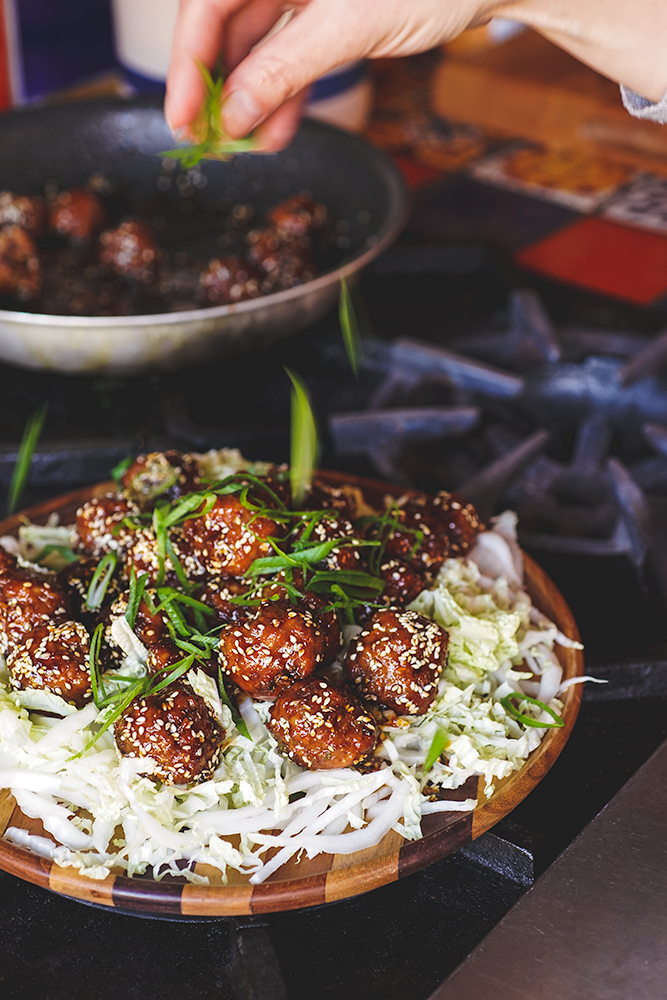 These meatballs can be served "as is" or with rice, for sandwiches or even rolled in a lettuce leaf with different garnishes.
Ingredients
4 Tbsp sesame seeds
2 lbs ground pork
½ cup Panko or breadcrumbs
3 Tbsp Layover in Korea blend, ground
1 egg, beaten
6 green shallots, slivered
2 tsp salt
4 tsp sesame oil
½ cup maple syrup
¼ cup Japanese soya sauce
1 cup Nappa cabbage, slivered
1 green shallot, slivered to garnish
Method
1

Heat the oven to 475 °F.

2

Place the sesame seeds in a small pan to roast for 1 to 2 minutes until golden. Set aside.

3

Put the meat, panko, ground spices, beaten egg, slivered shallots, salt and sesame oil in a large bowl.

4

Mix well until homogeneous and a little pasty.

5

Oil a roasting plate. Dampen your hands and make 24 meatballs. Place them on the plate.

Roast the meatballs in the oven for fifteen minutes. Remove from the oven. This step can be done one hour in advance.

6

Pour the maple syrup and the soya sauce into a large pan then place on high heat. Boil until it becomes thick and caramelized (2 to 3 minutes).

7

Place the meatballs in the pan and mix delicately using a wooden spoon to cover them with the glaze, being careful not to fracture them.

8

Place the slivered Nappa cabbage on a large plate. Arrange the meatbals on the cabbage and garnish with slivered green shallots and roasted sesame seeds.