Maple syrup and bacon roasted Jerusalem artichokes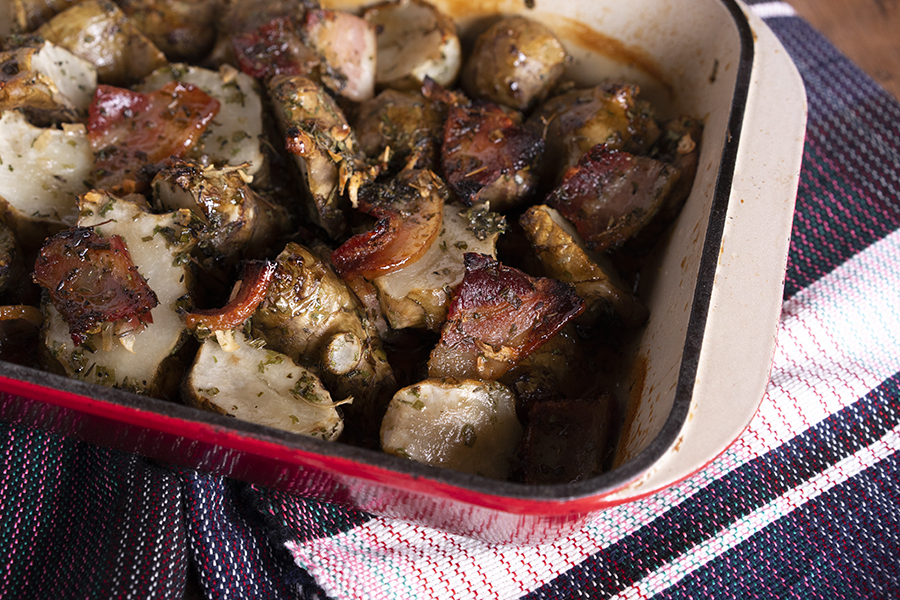 Jerusalem artichokes are a little-known winter vegetable that's easy to prepare and is an excellent accompaniment.
Ingredients
1 lb Jerusalem artichokes
¼ lb thickly sliced bacon
¼ cup maple syrup
2 Tbsp Quebec herb blend
Salt and pepper to taste
Method
1

Heat the oven to 425 °F.

2

Wash the Jerusalem artichokes. Cut into equal 1 ½ - inch pieces.

3

Cut half the bacon into 1 – inch pieces. Place in a bowl with maple syrup, herbs, salt, pepper and artichokes. Mix well.

4

Place the remaining bacon slices on the bottom of a baking dish that can accommodate the artichokes on one level.

5

Spread the artichokes on the dish. Pour approximately ½ inch water into the dish.

6

Cook for 30 minutes, until the water evaporates. Using a brush, apply the cooking juices to the artichokes.

7

Reduce the oven to 350 °F and continue cooking for 15-20 minutes more to obtain a crusty texture.