Squid and bok choy masalé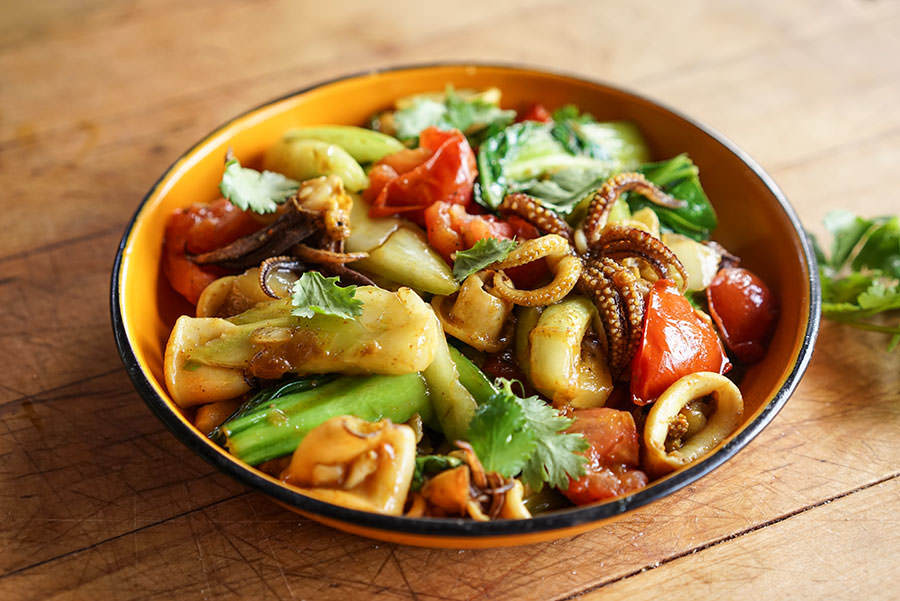 Masalé is a spice blend that originated in Mauritius and Réunion. It's essentially a curry. This recipe is great with shrimp, or any combination of seafood, instead of squid.
Ingredients
2 lbs squid, cleaned
1 Tbsp Mauritian Masalé or other curry
1 tsp turmeric
½ tsp fennel seed
½ tsp black pepper
Reshampatti or Cayenne
Salt to taste
3 Tbsp coconut oil
2 onions, sliced
4 cloves garlic, chopped
1 Tbsp ginger, chopped
6 scallions, chopped
3 tomatoes, chopped roughly
1 lb bok choy
2 Tbsp tomato paste or ketchup
4 Tbsp coconut aminos
Cilantro for garnish
Method
1

Chop quid into 1-inch pieces. Grind spices and add to the bowl with the squid. Add salt and mix well.

2

Soak curry leaves in 2 tablespoons of water.

3

Heat a pot on medium. Add oil and heat for a few seconds. Add drained curry leaves and onions. Sauté for 3-4 minutes.

4

Add garlic, ginger and scallions. Sauté for 2 minutes. Add the squid. Sauté for a few more minutes, until the oil starts to turn yellow and the squid changes color.

5

Chop bok choy into 1-inch pieces. Add to the pot with tomatoes, tomato paste and a small glass of water. Stir well, cover and simmer for 3 minutes.

6

Incorporate the coconut and garnish with cilantro.