Meen Masala Mackerel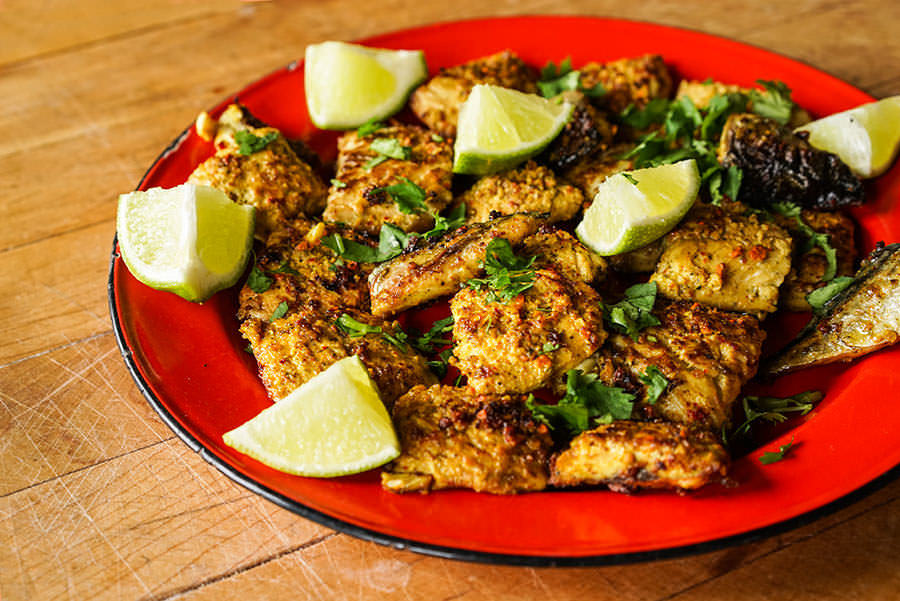 We ate this almost every day one our most recent trip to India and we were still asking for more! It's as fast as it is simple.
Ingrédients
1 lb fish filets (kinfish, mackerel, salmon, etc.)
2 Tbsp Meen Masala
4 cloves garlic
1 inch ginger, peeled and chopped
Juice of one lime or lemon
Salt, to taste
3 Tbsp coconut oil
Cilantro, chopped, for garnish
Préparation
1

Gently rinse filets in cold water. Place fish, skin-side down, on a few paper towels. Place 2-3 sheets of paper towels on top to dry. Chop into equal-sized pieces and place in a bowl.

2

Grind spices in a mortar. Add chopped ginger and garlic and reduce to a purée. Add lime juice and salt to taste, then stir marinade.

3

Add marinade to bowl and rub over fish pieces, ensuring each piece is coated evenly. Marinate 20-30 minutes.

4

Heat a pan on medium. Add oil and add fish, skin-side down.

5

Cook 2-3 minutes before flipping. Continue cooking another 2-3 minutes until fish is cooked through.

6

Serve garnished with chopped cilantro.