Meen Masala Mussels Marinière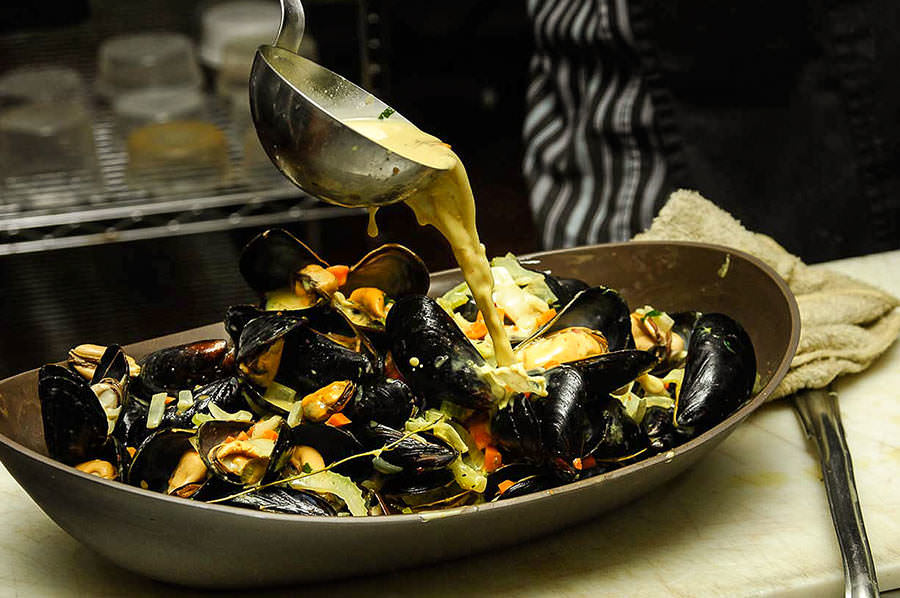 For us, it was love at first bite with Meen Masala. In Kerala, it's used with fish, but also great for adding a unique aroma to seafood. Our Indian friends might find it strange to add tarragon and white wine, but it's fantastic with mussels! 
Ingredients
2 lbs mussels
4 Tbsp butter
1 onion, chopped
2 garlic cloves
1 Tbsp meen masala, ground
1 carrot, diced
1 celery branch, sliced
1 bay leaf
1 glass white wine
1 cup thick cream (optional)
Fresh parsley or chives, chopped
Method
1

Wash the mussels well in cold water and discard any that are not closed.

2

Heat a large pot on high heat. Add the butter, onion, garlic, meen masala, carrot, celery, bay leaf and thyme together.

3

Mix well until the butter melts and the vegetables begin to cook (2-3 minutes).

4

Add the mussels and wine, mix well and cover.

5

Cook until pipin hot and the mussels open.

6

Without removing the pan from the heat, take out the mussels using a strainer or slotted spoon and place them on a larger platter.

7

Stir the cream into the remaining cooking juices. Boil for 1 minute. Add the herbs, pour over the mussels and serve.