Megrelian Kharcho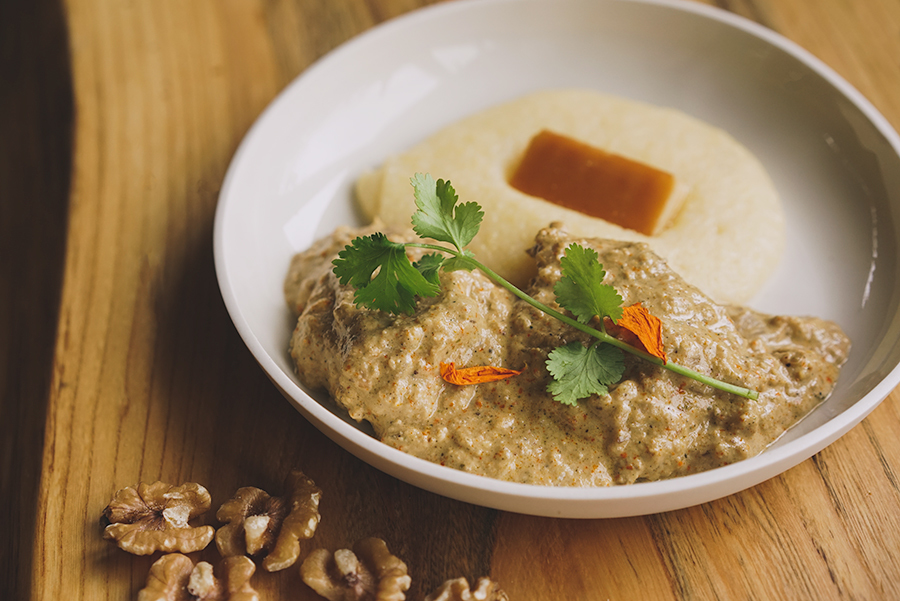 Kharcho is a Georgian dish that can either have the consistence of a soup or a stew. This version – chicken with a thick sauce – is from the province of Megrelia, where the dish is often accompanied by polenta infused with smoked cheese. 
Ingredients
2 lbs chicken, in pieces 
Salt and pepper, to taste  
4 large onions 
½ cup vegetable oil 
2 cups walnuts 
3 garlic cloves 
4 Tbsp tomato paste 
3 Tbsp Khmeli Suneli, ground   
1 tsp hot chilies, ground
½ cup cilantro, chopped 
Marigold petals, dried (opt.)  
Method
1

Remove any excess fat from the chicken. Salt and pepper the chicken. 

2

Roughly chop onions. 

3

Place the chicken fat in a large pan with oil and cook on medium until it melts.  

4

Add the onions, cook stirring often until wilted and barely golden (7-8 minutes).

5

Set aside half the onions. 

6

Add the chicken to the pan and continue cooking until the pieces are cooked through.

7

Pour enough water to cover the chicken. Simmer uncovered for twenty minutes, stirring occasionally.    

8

Meanwhile, grind half the nuts, garlic, tomato paste, Khmeli Suneli, chilies and set-aside onions. Reduce to a rustic paste. Add remaining nuts and continue to grind to a crumbly paste. Add half the cooking sauce from the chicken and mix well.

9

Incorporate the paste into the pan to create a sauce that coats well. If necessary, add more water or thicken with finely ground walnuts.

10

Let simmer on low heat for 5 minutes. Keep warm. Adjust the salt and pepper, if needed.

11

Incorporate cilantro and garnish with Marigold petals, if desired.