Melted fennel with cheddar crumble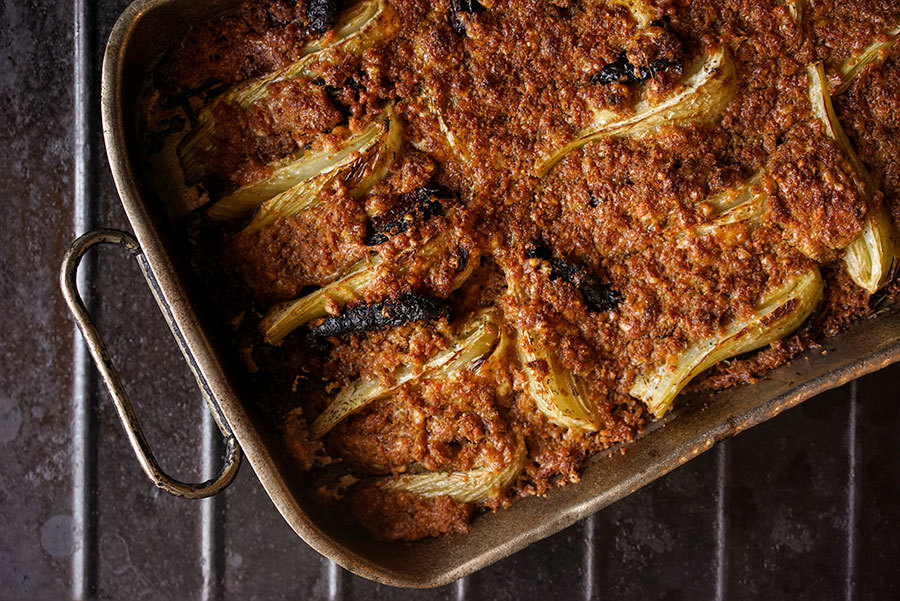 The secret to the success of this recipe lies in its contrasting textures. Be careful not to add too much salt; the sundried tomatoes as well as the parmesan are already quite salty.
Ingredients
2 large fennel bulbs
12 sundried tomatoes, in oil
1 Tbsp Mediterranean herbs or Herbes de Provence
Salt and pepper, to taste
2 Tbsp olive oil
2 Tbsp lemon juice
3 slices stale Country-style bread (not too dry)
1 Tbsp sweet smoked paprika
2 Tbsp butter, room temperature
1 Tbsp flour
1 cup cheddar, grated
¼ cup parmesan or romano, grated
Method
1

Heat oven to 425 °F. Cut fennel into 6 sections. Place on a bake sheet.

2

Drain dried tomatoes and place between fennel sections. Salt and pepper, then sprinkle herbs on top. Stream oil on fennel. Add water halfway into the backing sheet.

3

Place in the oven and cook until water evaporates, and fennel is tender (20-25 minutes).

Meanwhile, remove crust from bread slices and cut into cubes. Place in a food processor with paprika. Pulse to get fine crumbs. Pour into a bowl.

4

Add flour, butter, cheddar and parmesan to the bowl, mix using your fingers to create a « crumble ».

5

Once fennel is ready, place the blend over and cook for another ten minutes, until golden.

6

Remove from oven and let rest for 10-15 minutes before serving.