Menemen - Turkish vegetable and eggs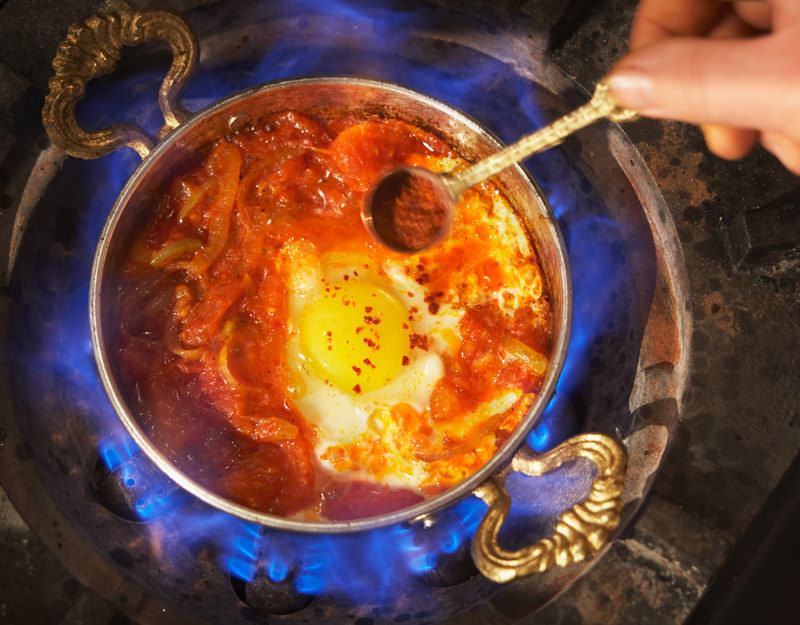 This simple fast recipe should be spicy. If you don't like uncooked eggs, boil them in the vegetable stew. This dish is easy to make for a large gathering. Just put the stew in small bowls, break the egg on top and put in the oven for a few minutes.
Ingredients
1 onion, chopped
1 Hungarian sweet chilli or ½ green pepper
2 Tbsp clarified butter or a mix of olive oil and butter
2 tomatoes, chopped
2 Tbsp Aleppo pepper or 2 Tbsp Turkish hot pepper paste
Salt
½ tsp black pepper, ground
2 eggs
2 oz Turkish cheese (beyaz peynir) or Greek feta cheese
Aleppo pepper to taste
Garlic yogurt
1 cup plain yogurt
1 clove of garlic
2 Tbsp dried mint
¼ tsp salt
Method
1

Melt the clarified butter and stir fry onion and chilli in a small casserole until they begin to color.

2

Add tomatoes, Aleppo pepper, salt and pepper.

3

Cook until the sauce thickens. Make two small hollows in the sauce and break an egg into each.

4

Cover and cook over low heat until eggs are poached (4 minutes).

5

Garnish with cheese, Haydari and a few flakes of Aleppo pepper. Serve with bread.