Merguez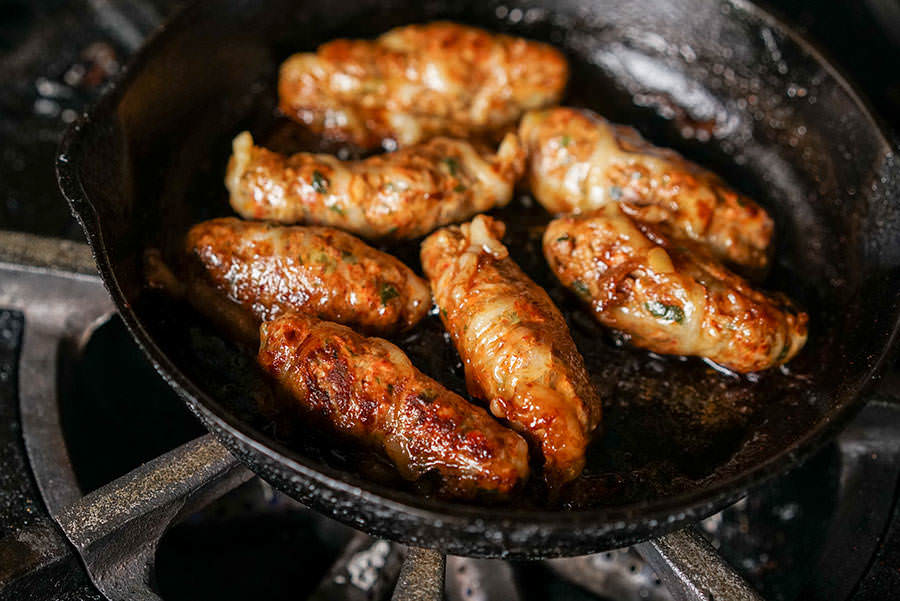 These merguez patties are easy to make whether you use caul fat or not. They're also good with a combination of lamb and pork, or with a pinch of dried mint, to taste.
Ingredients
*Caul fat or crépine, usually needs to be ordered from the butcher in advance. If you really want to get into sausage making, we recommend buying a lot of caul fat; it keeps in the freezer for a long time.
Method
1

Place all ingredients, except caul fat, in a bowl. Mix well and work with your hands for 2 minutes.

2

Divide mixture into 12 more or less equal-sized patties. Unroll a sheet of caul fat on the counter. Slice into a square about 8 x 8 inches. Place a sausage patty it and wrap caul fat around it. Repeat for each sausage. Place the wrapped sausages on a tray and cover in plastic. Refrigerate 24 hours before cooking.

3

If you don't have caul fat, make 12 to 15 patties and keep in the fridge for 24 hours.

4

Cook the merguez about 20 minutes in a large pan on medium heat or in and oven preheated to 350° F. Serve with mustard or finish cooking in a tomato sauce.