Mesta Village Pasta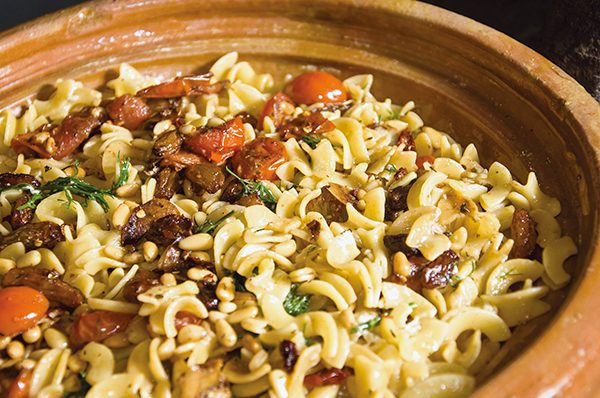 This dish is proof that simplicity and great basic ingredients are the key to real gastronomy.
Ingredients
5 salt-cured anchovies or 10 anchovy filets
2 cups grape tomatoes
1 lb short-shaped pasta
½ cup olive oil
½ cup pine nuts
¾ cup raisins
6 garlic cloves, sliced
1 Tbsp Mediterranean Herbs or Dionysios' wild herbs
1 tsp hot chilli flakes
¼ lb kefalotiri or Romano cheese
Method
1

Remove the filets from the anchovies and chop finely. Halve the tomatoes.

2

Cook the pasta in salted boiling water.

3

Heat oil in a frying pan on medium heat. Brown pine nuts for 1 minute and remove with a slotted spoon. Fry the raisins until they puff up (about 1 minute) and remove.

4

Next, add the garlic to the oil, and once golden, add the herbs and anchovies. Cook for 1 minute.

5

Add the sliced tomatoes and return the pine nuts and raisins to the frying pan. Cook for 2 minutes before adding the hot chili.

6

Drain the pasta, reserving 1 cup of the cooking water. Pour the pasta into a large bowl and add the contents of the frying pan with ½ cup of the pasta water. Toss well.

7

Wait a minute before drizzling more oil along with half the grated cheese before tossing the pasta again. Add more pasta water if the dish is too dry.

8

Serve with extra chilli flakes and the remaining cheese.