Mexican corn pudding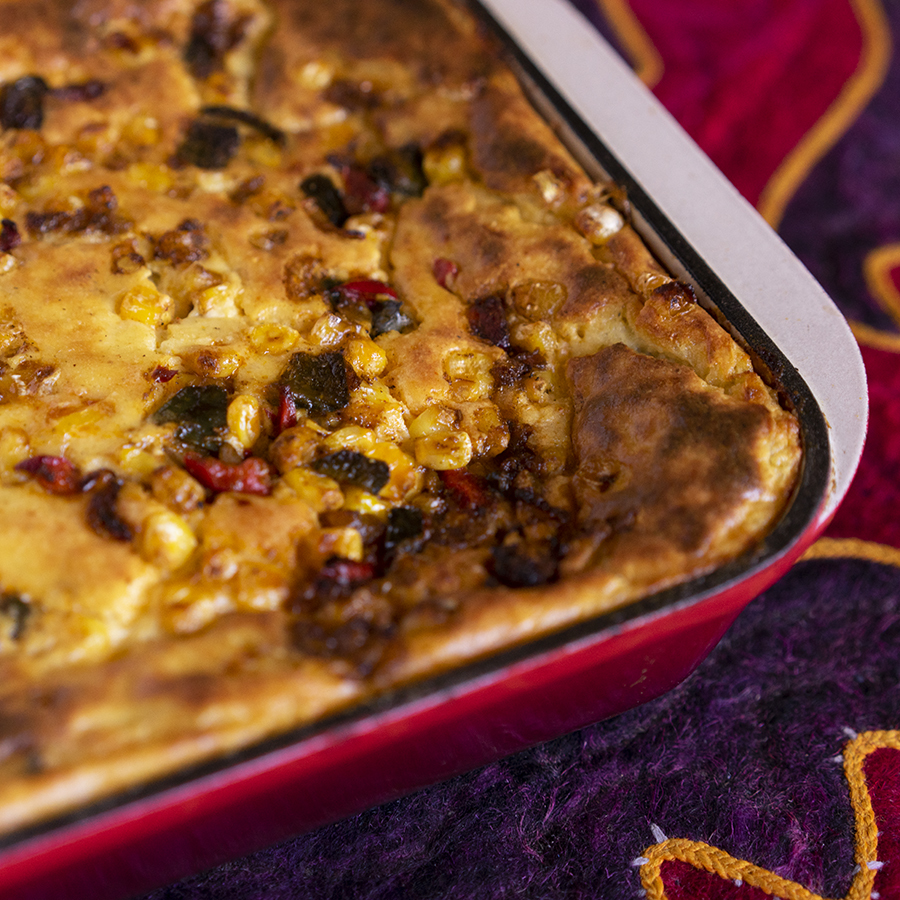 A great way to keep corn season going! It's definitely better if you have a leftover of cooked seasonal corn, but if you only have it in a can, it will work. This makes an original side for Thanksgiving!

Ingredients
5 cups milk
1 tsp salt
¾ cup fine cornmeal
4 Tbsp butter
1 small onion, chopped
1 small red bell pepper, diced
1 Poblano chile or green chile, diced
1 cup corn kernels
½ tsp salt
1 Tbsp Cali-Mex blend, ground
6 eggs
1 cup cheddar cheese, grated
Butter for the mold
Method
1

Heat the oven to 425 °.

2

Pour the milk along with 1 tsp salt into a large pan. Heat on medium-high.

3

Once the milk begins to froth and is about to boil, sprinkle in the cornmeal, whisking continuously to avoid lumping.

4

Reduce heat and cook for another 10 minutes, stirring often.

5

Meanwhile, melt the butter in a pan on medium then add the onion and chilies and cook for 5 minutes. Incorporate the corn kernels, salt and ground spices. Cover and let steam for 5 minutes. Set aside ½ cup of vegetables.

6

Remove the cornmeal from the heat, vigorously incorporate the eggs, one at a time. Add the cheddar and the steamed vegetables.

7

Generously coat a large mold with butter and pour in the preparation. Add the ½ cup reserved vegetables. Cook for about 30-40 minutes until the pudding is firm, golden and lightly puffy.

8

Remove from the oven and wait 10 minutes before serving.