Swiss Chard and Lentil Mijoté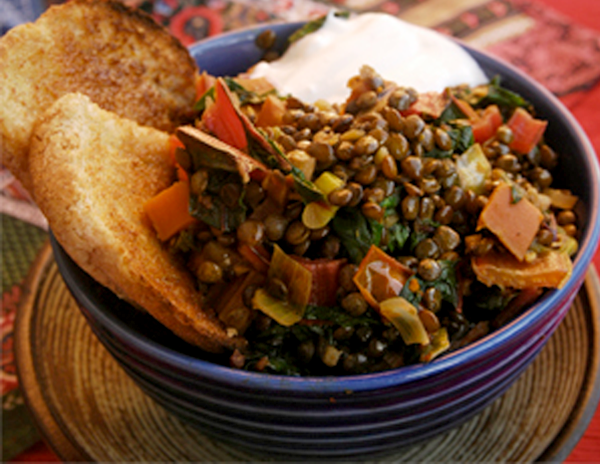 The Wholesome Curry used in this recipe is savory and carries the right amount of heat. It is composed entirely of spices that have antioxidant properties.
This dish borrows inspiration from Indian and French cuisine. It will satisfy the most discerning of palettes. The recipe serves six people.
Ingredients
2 cups Puys green lentils
1 onion, cut into 8
3 cloves garlic
1 carrot, sliced
1 branch celery, diced
1 tsp turmeric
1 tsp dry ginger
1 tsp black pepper, ground
1 bunch of Swiss chard
2 tomatoes, sliced
5 Tbsp olive oil
3 Tbsp fresh ginger, sliced
4 cloves garlic, sliced
1 bunch green onions, sliced
½ tsp Wholesome Curry or Madras Curry
Hot pepper, to taste
Sea salt
Garnish
1 cup plain yogurt
½ clove garlic
1 pinch sea salt
6 slices stale country bread
1 piece of fresh ginger
6 tsp olive oil
Method
1

With a strainer, wash the lentils until the water runs clear. In a pot, add the lentils with 6 cups of water. Bring to a boil.

2

Skim the water and add the onion, carrot, garlic, celery, bay leaves, turmeric, ginger and the black pepper. Simmer for 30 minutes.

3

Slice the Swiss chard. Set aside.

4

In a pot on medium-high heat, pour in the oil and fry the ginger, garlic, the shallots, the curry and the ground hot pepper until they become aromatic and colorful.

5

Add the diced tomato and fry for 2 minutes more. Pour everything into the lentils.

6

Add the Swiss chard. Add salt and let simmer for a few minutes.

7

Meanwhile, preheat the oven to 400ºF. Prepare the garnish. Mix the yogurt with the garlic and the salt. Set aside.

8

Rub the bread with the ginger. Place on a baking pan and drizzle with oil. Roast in the oven until the bread is crusty and golden.

9

Serve the mijoté with garlic yogurt and the croutons.