Minestrone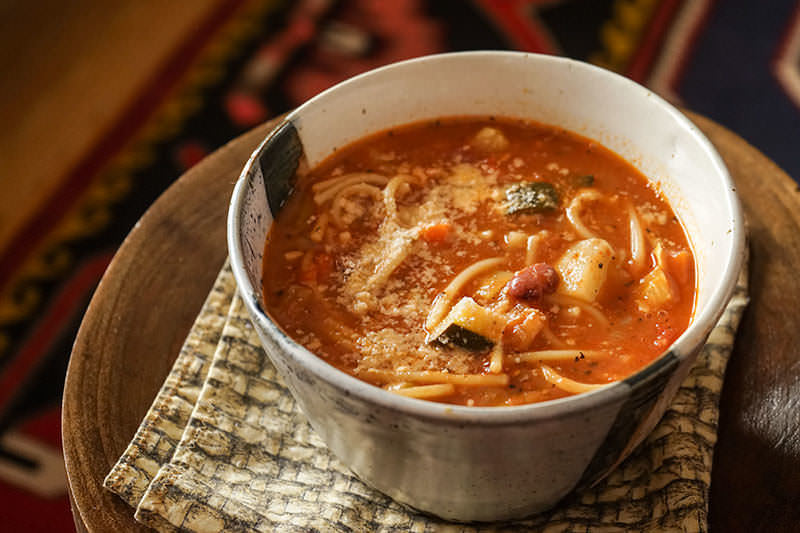 This is one of the great fridge-cleaning classics. We had zucchini on hand when we made it, but almost any vegetable will make a satisfying addition to the comforting broth. An initial slow, long cook for the vegetables brings out the flavour and sweetness of this dish, which gets its umami depth from the smoked, sweet paprika.
Ingredients
3 Tbsp olive oil
1 medium onion, chopped
1 large carrot, peeled and diced
2 stalks celery, chopped
3 cloves garlic, minced
1½ Tbsp smoked sweet paprika
2 Tbsp Pizza spices
1 Bay leaf (opt.)
2 Tbsp red wine vinegar
1 16 ounce can or 2 cups diced tomatoes, with juice
2 cups stock or water
3 medium potatoes (red, white, yellow), peeled and diced
3 medium zucchini (or any gourd or root vegetable), diced
1 16 ounce can or 1 cup cooked kidney beans
¼ pack short pasta: macaroni, penne, or spaghetti broken into small pieces
1 cup cabbage, shredded
Method
1

Place a large pot over medium-low heat and add the oil. Add the onion, carrot, and celery and simmer gently for 10-15 minutes until the vegetables leach some water and become very soft but not brown. Add the garlic and sautée for another minute or two.

2

Add the paprika and spices and stir until the vegetables are evenly coated. Add the vinegar, stir again, then add the tomatoes.

3

Transfer a cup of the mixture to a blender and purée, then return to the pot, or simply purée roughly with a stick blender. Add the stock and bring to a light boil.

4

Add the potatoes and zucchini and continue to simmer for 30-40 minutes until they potatoes are fork tender.

5

Add the beans, stir, then add the pasta. You may need to add a little water to thin the soup if the pasta absorbs too much water.

6

When the pasta is almost cooked, add the cabbage and simmer for another 2-3 minutes. Add salt and pepper to taste.