Miso Ramen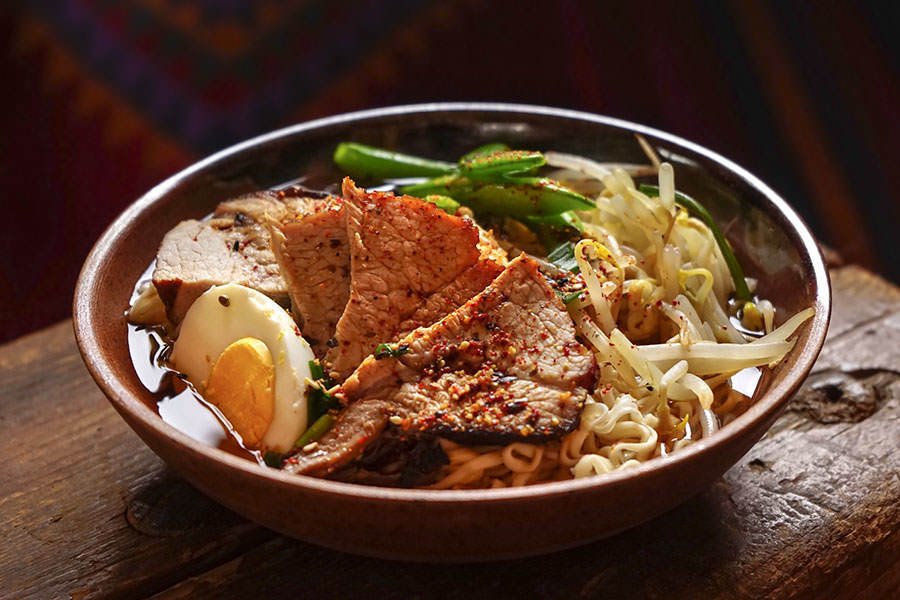 Make sure to have all the toppings prepared first. Once noodles are cooked you will need to add toppings right away or noodles will get too soft.
Broth
6 cups water
3 garlic cloves
2 inches ginger, sliced
225g ground pork
5 green scallions
Dry Kombu seaweed 8cm x 3cm (optional)
Soup
6 Tbsp miso paste
2 Tbsp sake
1 Tbsp soy sauce
1 tsp sugar
1 Tbsp chili paste
2 tbsp baking soda
300 g Chuka-men or dry ramen noodles
sesame oil
2 garlic cloves minced
Toppings
soft boiled eggs, halved
green scallions, chopped finely
bean sprouts
sugar snap peas
roast pork, sliced
spinach leaves
Method
1

Put all ingredients for the broth in a large pot and boil 15 minutes. Strain and return broth to the pot.

2

Add miso, sake, soy sauce, sugar and chili paste. Let simmer on low heat.

3

In another pot, bring water to a boil. Add baking soda, then add noodles (cook according to package instructions).

4

In the meantime, add sesame oil and minced garlic to broth and stir.

5

When noodles are cooked, immediately divide among bowls, add broth and top with garnishes.