Mole negro enchiladas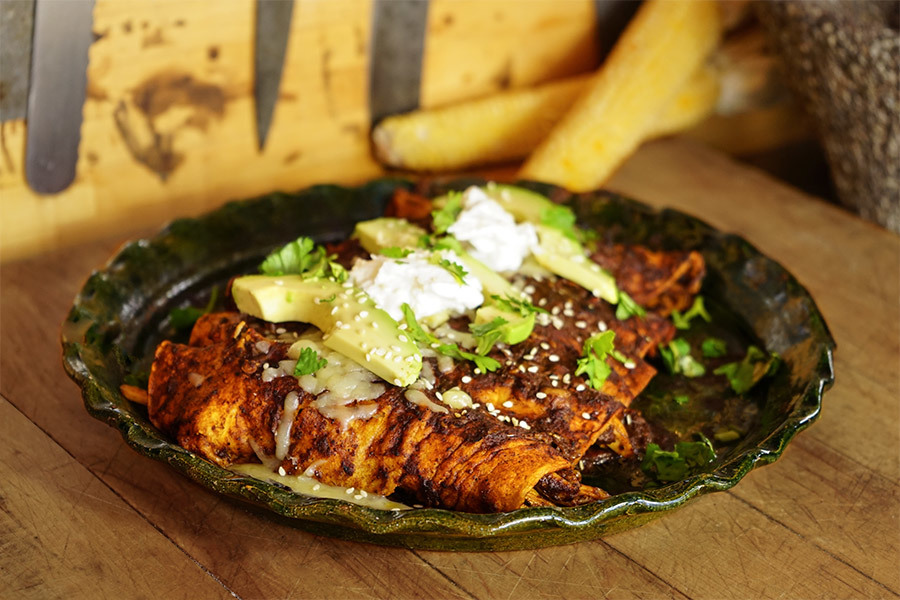 The perfect recipe for leftover mole sauce. In Mexico, enchiladas are often served almuerzo, a hearty breakfast that's usually eaten mid morning.
Ingredients
4 cups mole sauce
2 cups cooked turkey or chicken
8 corn tortillas
½ cup queso fresco or grated cheddar cheese
8 Tbsp 35% cream (opt.)
Garnishes
Avocado, sliced
Red onion, thinly sliced into rings
Sesame seeds, roasted
Fresh coriander
Sour cream
Method
1

Preheat the oven to 325 °F. Heat the sauce and turkey in a pan. If needed, dilute the sauce with water or stock to achieve a thick, creamy consistency.

2

Remove the meat.

3

Heat each tortilla on a flat, heated surface, then dip in the sauce. Place a piece of turkey, then roll and put in an oven-proof dish.

4

Spread the remaining sauce around the stuffed tortillas. Add thick cream and cheese.

5

Reheat in the oven for 5 to 10 minutes.

6

Serve with the garnishes of your choice.