Montréal Christmas Turkey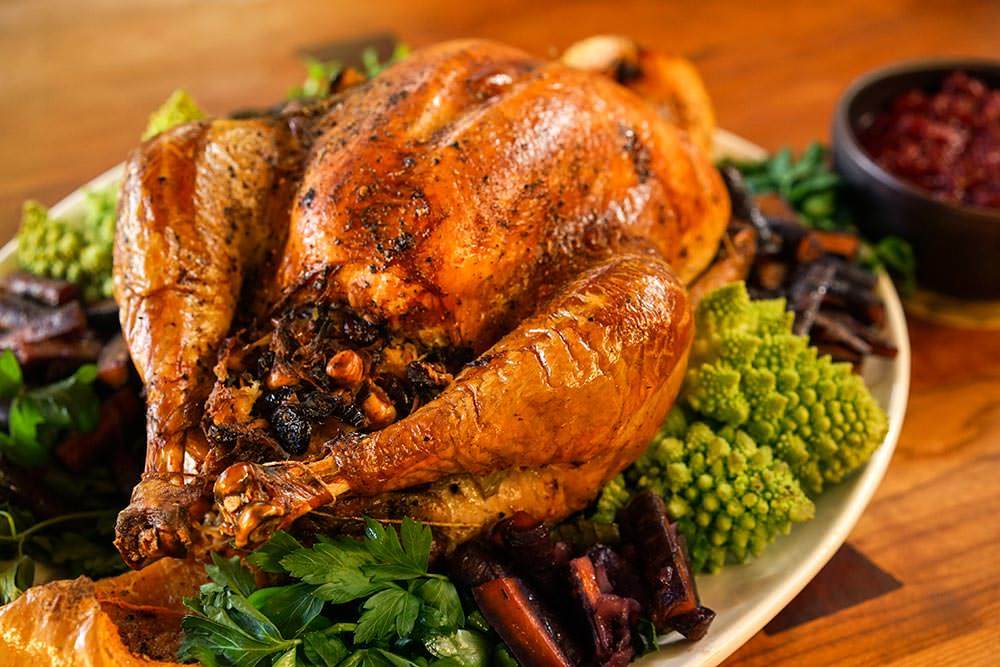 Marinating your turkey in salt and spices for a day or two before roasting is the secret to a truly tasty, juicy bird. The stuffing can be prepared in advance which makes cooking very simple.
Ingredients
1 turkey (12-15 lbs)
6 Tbsp Montréal Spice Rub
2 medium leeks
4 McIntosh apples
6 Tbsp butter
4 slices bacon (opt)
1 ½ cup grated parsnips
1 cup dried cranberries
1 cup pecans or hazelnuts
1 tsp thyme
1 tsp grated nutmeg
1 glass white wine
Salt and pepper, to taste
Method
1

Remove giblets from the turkey, then rinse the bird inside and out with cold water and pat dry. Rub the spice blend on the outside as well as the inside, and then place the turkey in a well sealed plastic bag. Refrigerate for 24-48 hours.

2

Prepare stuffing: cut leeks into 1 cm pieces. Peel, seed and dice the apples. Chop giblets finely.

3

Heat a large heavy-bottomed pan on medium heat. Add butter or oil then the bacon cut into small pieces. Cook for one minute before adding apples and leeks. Cook for 5 minutes more stirring occasionally. Add chopped giblets and cook for another two minutes.

4

Add all remaining ingredients. Cook for another 10 minutes. If the stuffing was prepared in advance, spread evenly on a tray to cool before refrigerating.

5

Remove the stuffing and the turkey from the refrigerator one hour before cooking. Stuff the turkey and place in a roasting pan. Stream a little oil over the turkey.

6

Cook at 375°F for 3 hours basting regularly with its own juice. Verify, using a thermometer; the internal temperature at the thickest parts of the turkey should be 165°F. Let rest ½ hour before carving.