Montreal Spice Rub Club Sandwich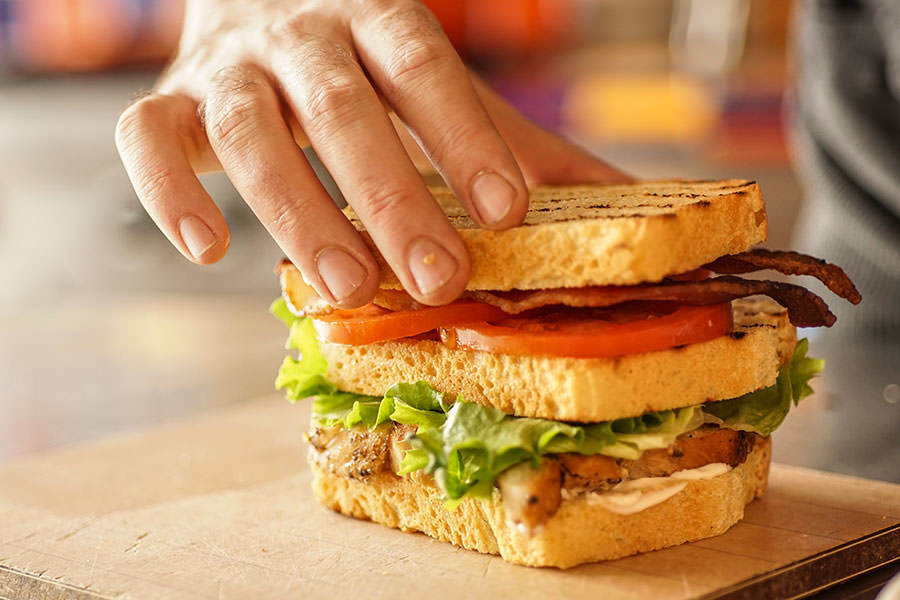 Chicken breasts rubbed with Montreal Spices makes for classic club sandwich flavour. This recipe is meant to invoke a traditional club sandwich, but the basic template can be used for many different kinds of clubs. Chicken breasts covered in Montreal Spice Rub and seared can also be used as a basic protein topper for anything from salad to pasta. *Makes 4 servings.
Ingredients
2 tsp Montreal Spice Rub
2 large boneless, skinless chicken breasts
8 strips bacon
12 slices bread
2 large ripe tomatoes, sliced
4 large leaves lettuce, preferably romaine
Mayonnaise
Method
1

Preheat oven to 350 °F .

2

Rub Montreal Spice over both sides of chicken breasts and set aside.

3

In a medium-sized pan, cook bacon on medium heat and remove when done. Reserve bacon fat in the pan for the chicken (you can use some vegetable oil if the bacon fat is not enough).

4

Put the heat on high and place chicken breasts in the pan. Sear until the outside begins to brown, at least one minute on each side.

5

Put chicken on a baking sheet and place in the oven for at least 10 minutes until cooked through. Cover with aluminum foil if you want juicier meat. Let rest for a minute or two after removing from the oven, then slice the breast meat crosswise into strips.

6

Make a triple-decker sandwich by spreading mayo on the first piece and placing chicken and lettuce on top, then putting another piece of bread on thay, followed by the bacon and tomato. Top with a third piece of bread, then slice from corner to corner to make the famous club sandwich triangles.

7

Two chicken breasts should be enough for four sandwiches.