Moroccan Chicken with Olives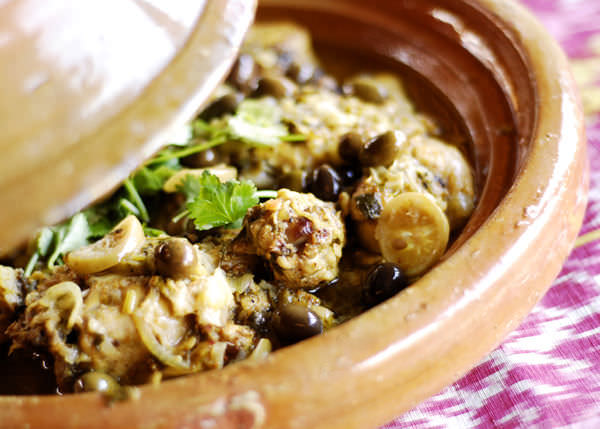 They key to this recipe lies in a technique we don't often use: it's important to not preheat the pot before cooking. It's enough to just mix the ingredients in the pot, then turn on the heat. 
Ingredients
1 medium chicken, cut in pieces
1 large onion
3 garlic cloves
1 bunch of cilantro
½ bunch of parsley
1 Tbsp Tajine spices, ground
4 Tbsp olive oil
3 preserved lemons, sliced
24 green or violet olives
1 tsp cumin, ground
½ tsp Tajine spices, ground
Method
1

Remove the excess fat from the chicken and wash the chicken well.

2

Place the well-drained chicken in a large pan along with the onion, garlic, cilantro, chopped parsley and the spices. Mix well.

3

Add a small glass of water to the pan then place it covered on low heat and bring it to a boil.

4

Let simmer for ½ hour until the chicken is almost cooked.

5

Add the preserved lemons, olives and remaining spices. Mix carefully and cook for another 10 minutes on low heat.

6

Let rest for ½ hour before serving.