Moroccan Chickpeas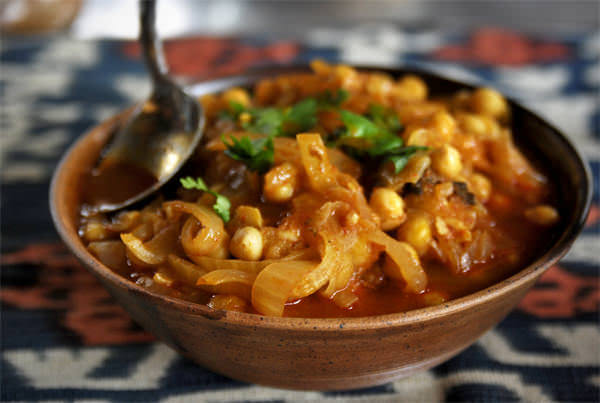 A quick and vegetarian meal! It also makes an excellent crock pot recipe.
Ingredients
6 Tbsp olive oil
6 garlic cloves, chopped
1 Tbsp cumin, whole
2 large onions, sliced
2 Tbsp paprika
1 tsp Tajine spices
4 Tbsp mild Turkish pepper paste or tomato paste
4 cups chickpeas with their cooking liquid
Method
1

Heat a pan on medium heat.

2

Pour oil and cook the cumin and garlic for a few seconds.

3

Add the onions and cook until they are tender.

4

Add the paprika and the Tajine Spices. Cook for 2 minutes more.

5

Add the pepper paste (or tomato paste) and the chickpeas. Salt if needed.

6

Let simmer on low heat for at least half hour. Add a little water if necessary.
If you make this recipe in a crock pot, the cooking time will be longer (4 hours). You should however still cook your spices and seasonings before placing them in the crock pot with the chickpeas.