Moroccan Kefta Kebab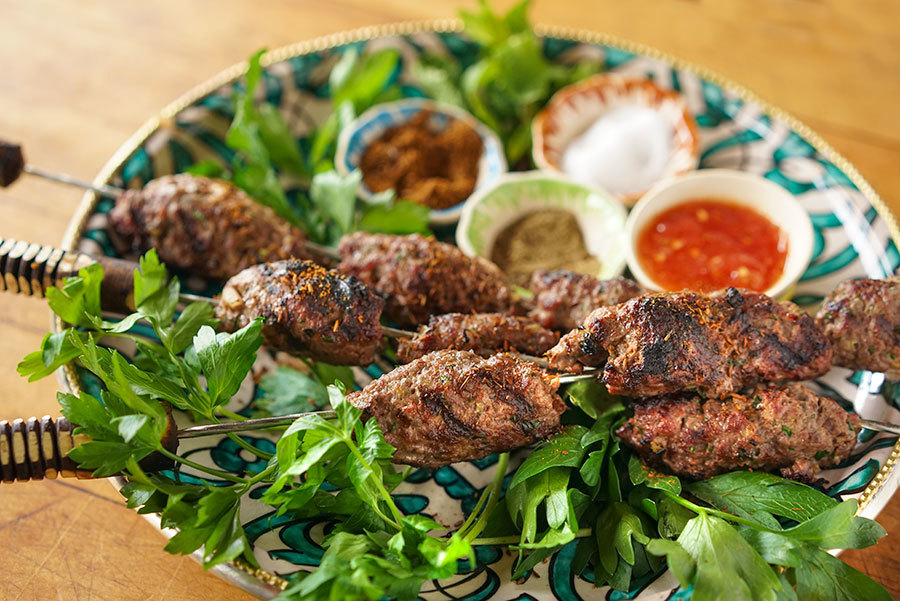 A welcome sight in the souks around Marrakesh, these small, simple kefta are a quick way to enjoy spicy grilled flavor. Can be served as-is, with some spices and tomato sauce drizzled on top, or in a sandwich.
Ingredients
1 kg ground beef
1 onion, minced
1 cup fresh herbs (parsley, mint, cilantro), minced
Pinch Salt
Tomato Sauce
6 medium tomatoes
1 clove garlic, minced
Juice of 1 lemon
1 Tbsp coriander, ground (optional)
2 Tbsp olive oil
Garnish
Method
1

Mix beef, onion, herbs, and salt together in a bowl. Knead vigorously with your hands for 2-3 minutes.

2

Form a small ball of the meat mixture in your hands and press around a skewer to form a kefta. Press kefta firmly against the skewer to ensure it stays together during cooking. Press 3-4 kefta onto each skewer. If possible, place kefta skewers in the fridge for 10-15 minutes before grilling.

3

For the sauce, grate tomatoes in a bowl with a cheese grater. Discard skin. Add garlic, lemon, and coriander, then stir. Add olive oil and stir.

4

 Remove skewers from fridge. Grill on high heat for 2-3 minutes on each side until thoroughly cooked.

5

Serve with tomato sauce and ground spices on the side. 
Be sure to knead the meat thoroughly and press it tightly against the skewers to ensure the kefta stay closed. You can also use a flippable grilling basket.