Mouhamara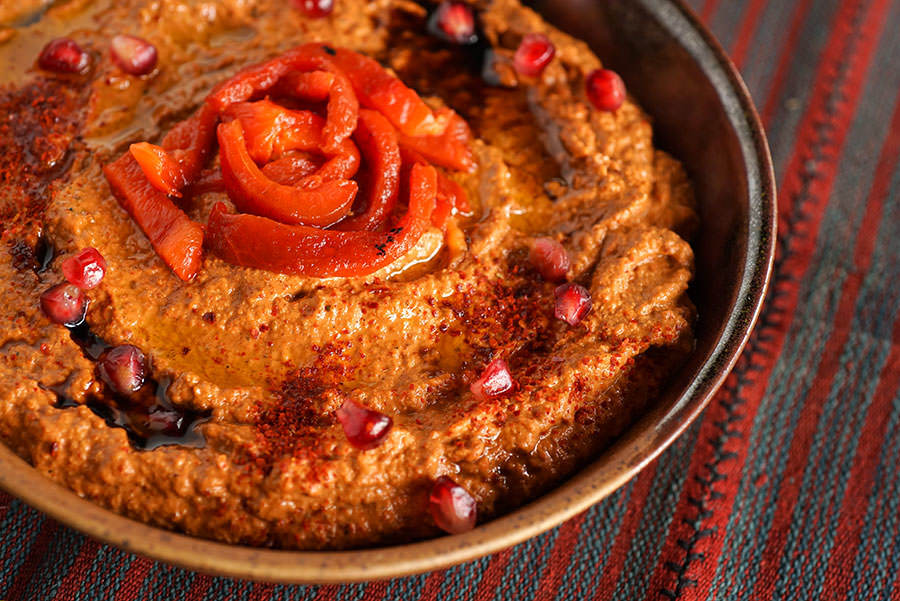 Mouhamara is one of our favorite mezzes, and this is our personal recipe. Feel free to adjust the amount of chilies to make it more or less hot. If you don't have nut oil, just substitute olive oil.
Ingredients
3 red peppers
¾ cups walnuts
2 cloves garlic
4 Tbsp Turkish pepper paste or tomato paste
4 Tbsp Aleppo pepper
Reshampatti pepper or Cayenne, ground, to taste
6 Tbsp pomegranate molasses
¼ cup walnut oil
¼ olive oil
Salt to taste
12 olives for decoration
Method
1

Heat a cast-iron pan on medium-high heat and grill peppers. You can also roast them in the oven, under the broiler. Turn when the skin is blackened and remove when every side is cooked. Place in a plastic bag for 10 minutes. Peel and seed peppers. Set flesh aside.

2

Place nuts in a food processor with garlic and grind well. Add grilled peppers, pepper paste, Aleppo pepper and pomegranate molasses and add oil in a continuous stream until well-incorporated. Add water if needed- the texture should be that of a thick dip.

3

Spread sauce on a place and decorate with a splash of pomegranate molasses, a few nuts, and olives.