Liver mousse with Port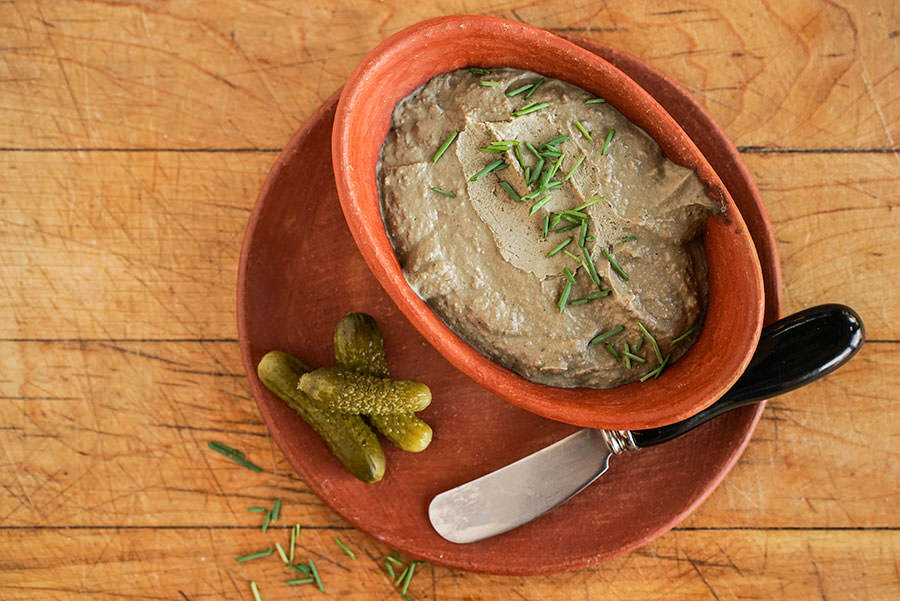 This mousse with port is a French classic, and is even easier to make than you'd expect. The duck fat flavor base makes it absolutely sumptuous.
Ingredients
1 lb chicken or duck livers
¼ tsp thyme
½ tsp black pepper
½ cup duck fat
1 medium onion, chopped
1 clove garlic, chopped
¼ cup port
¼ nutmeg, grated
1 tsp salt
Method
1

Rinse liver in cold water. Pat dry with a paper towel. Season with thyme and pepper.

2

Heat a pan on medium and add half the duck fat and onion. Cook until the onion is golden and falling apart, 3-4 minutes.

3

Add liver. Sauté for 3-4 minutes. Pour in port and cook for another minute, until liver is still slightly pink.

4

Transfer the contents of the pan to a food processor. Add remaining fat, nutmeg and salt.

5

Grind on high speed for 4-5 minutes to make a smooth paste.

6

Transfer contents to a fine-mesh sieve placed over a bowl. Push the purée through the sieve with a soft spatula. Fill small jars with the mousse. Place plastic wrap over the surface of the purée and refrigerate at least 6 hours before serving. This mousse freezes well.