Mushroom Risotto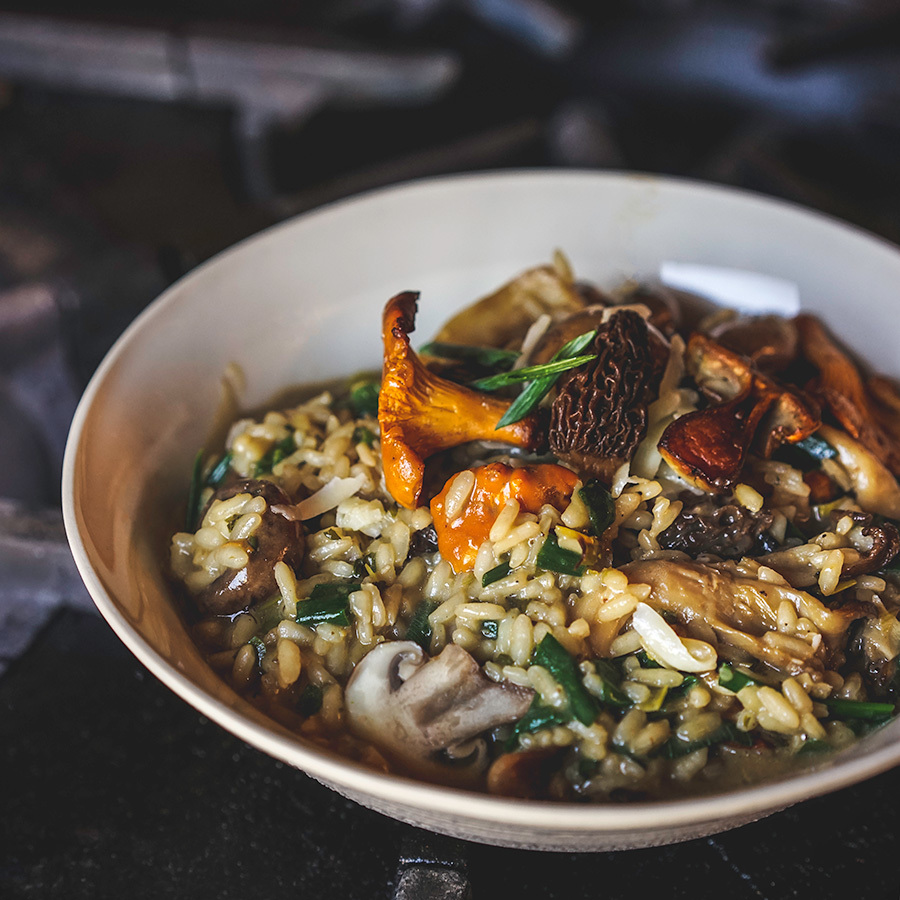 Risotto is a refined yet rustic dish which should certainly not be reserved only for special occasions. To obtain a creamy, al dente risotto, it is essential that there should not be too little or too much broth. The amount of broth suggested is an approximation, there may be some left over, or you more may be required. If necessary, add boiling water (never cold water).
It's possible to prepare a delicious risotto using a combination of fresh, dried and wild mushrooms – depending on what's available. If you use dried mushrooms, rehydrate them in advance then drain the water and add it to the broth.
Method
1

Prepare, clean and slice mushrooms, if needed.

2

Pour the broth into a pot and bring to a boil on medium heat. Let simmer slowly during the preparation of the risotto.

3

Heat a large casserole on medium-high heat and add 3 Tbsp olive oil.


Brown half the mushrooms. Set aside for final touches to the risotto.

4

Add the remaining olive oil and brown the balance of the mushrooms. Add the butter, onions, bay leaf and thyme. Salt, pepper and reduce the onions for 5 minutes alongside the mushrooms.

5

Incorporate the rice and mix well. Deglaze with white wine. Mix well then add 2 full ladles of hot broth. From this point on, cooking the rice requires another twenty minutes.

6

Reduce the heat to medium and mix every two minutes insuring that the rice does not stick. Add hot broth regularly, being careful not to drown the rice, yet making sure that there is always some boiling liquid in the casserole.

7

When the twenty minutes are up, stop adding broth and let the rice dry so it becomes creamy. Incorporate the remaining mushrooms and cook for another 2 minutes, allowing the mushrooms to heat up.

8

Remove the risotto from the heat, incorporate ¾ of the parmesan, cold butter and chopped chives. If the rice is not creamy enough, add a bit more broth.


9

Garnish with the remaining parmesan and serve immediately.