Mussel Paella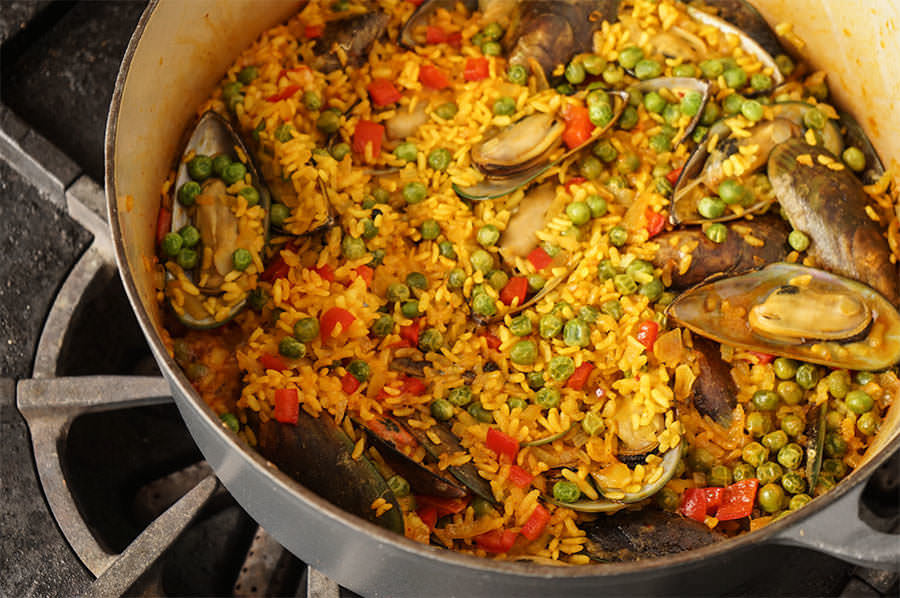 A great basic paella recipe that can be easily adapted to include meat, as well as other seafood and vegetables.
Ingredients
6 Tbsp olive oil
2 large onions, chopped medium
1 red pepper, diced
2 ripe tomatoes
1 ½ Tbsp Paella spices, ground
2 cups rice (Italian, Spanish or Turkish)
3 cups mussel or chicken stock or water
2 tsp salt
2 lbs mussels, cooked
2 cups green peas
½ glass sherry
Method
1

Place oil and onions in a pot on medium-low heat.

2

Cook gently until onions are translucent (around 5 minutes).

3

Add pepper and cook 5 more minutes.

4

Grate tomatoes on a cheese grater and set pulp aside (you can use the skins for something else, for example a stock).

5

Incorporate ground spices and stir well for around 30 seconds. Add the rice and stir well, until it is all evenly colored. Incorporate tomato pulp.

6

Add stock, increase heat to maximum, and bring to a boil. Stir for around 3 minutes to ensure the rice doesn't stick. Reduce heat to medium.

7

When the rice has swollen and the level of cooking liquid is about even with the rice, add salt, mussels and peas.

8

Place a cover on the pot but leave it slightly ajar. Reduce heat to low, pour sherry evenly over the rice and cook until the rice has absorbed all the liquid and is starting to make a nice crust on the bottom of the pot (10-15 minutes).

9

Remove from heat and let rest 15 minutes before serving.