Nadia's Berberé Cauliflower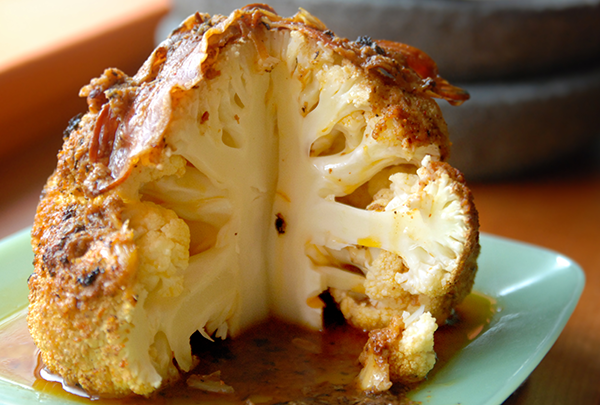 The perfect quick mid-week dish. Ideal for evenings when time is of the essence. The roasting of the cauliflower brings out the sweetness of the cauliflower. A simple dish that really brings out the sweetness of cauliflower.
Imagined by Nadia, our longest serving employee. There is probably no spice blend that she has not experimented with. Nadia often prepares this dish for our colleagues at our daily staff lunches, and they always come back for more.
Ingredients
4 cloves Garlic, chopped
3 Tbsp Ethiopian Berberé, ground
1 tsp Salt
2 Tbsp Lemon Juice
6 Tbsp melted Butter
1 medium Cauliflower
4 strips of Bacon
Method
1

Preheat the oven to 375°F.

2

Mix the garlic, salt, Ethiopian Berberé, melted butter and lemon juice in a bowl.

3

In a large pie dish, place the cauliflower.

4

Rub the spice mix on the cauliflower and cover with the bacon strips.

5

Cook for 1 hour in the oven basting from time to time with the cooking juices.