No-bake peach cheesecake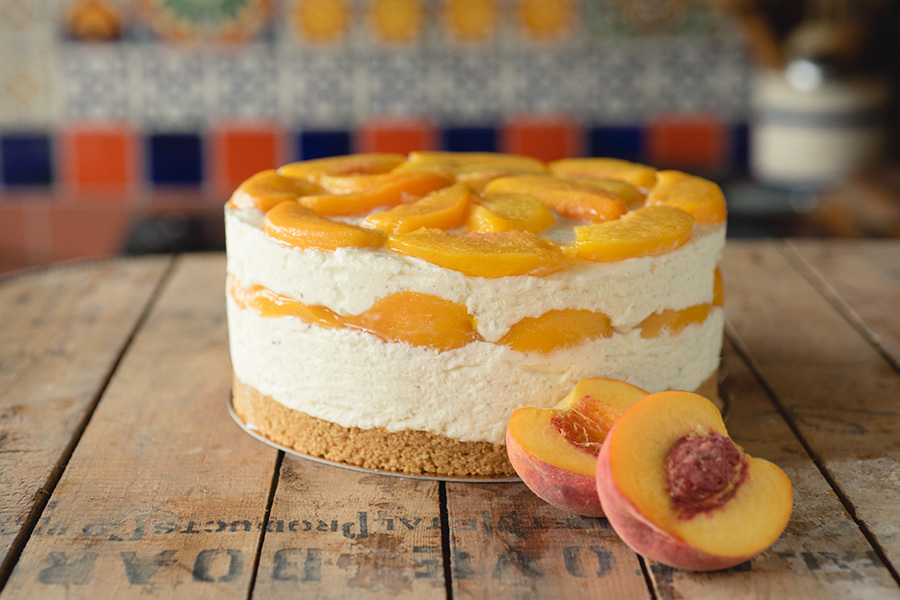 A light, creamy cake that highlights the fragrances of peaches and vanilla.
Poached Pears
3 cups of water
1 cup of sugar
Juice of half lemon
4-5 peaches
Crust
1 ½ cups Graham cracker crumbs
⅓ cup melted salt butter
¼ cup sugar
Cheese mixture
1 carton 35% whipped cream (473 ml) – set aside ½ cup
2 packets gelatin
Juice of half lemon
2 packs cream cheese (500g total)
1 cup sugar
Seeds of one vanilla bean
1 Tbsp vanilla extract
Peaches
1

Using a large casserole, bring the sugar and lemon juice to a boil.

2

Add whole peaches to the syrup and cook for 1 to 2 minutes.


3

Remove the peaches from the syrup using a slotted spoon and rinse with cold water to remove the skin.

4

Cut the peaches in two, remove the seeds and return the peaches to the syrup.

5

Once again, bring to a boil, turn off the heat and poach the peach halves for ten minutes, turning them over from time to time.

6

Drain the poached peach halves well, place on a plate to cool in the refrigerator.

7

Once cold, cut the peach halves into thick, even slices, that don't fall apart.
Crust
1

Mix the cracker crumbs, sugar and melted butter in a bowl.

2

Press firmly into an 8-inch spring mould and place the mould in the freezer for 10 minutes.
Cheese mixture
1

Pour ½ cup cream into a small pan. Add gelatin and lemon juice and let rise for 5 minutes.

Cook the mixture on low heat until the gelatin is completely melted and the mixture is smooth. Remove from heat and cool.


2

Place the cream cheese and sugar into a large mixing bowl. Whisk until creamy. Set aside.

3

In another mixing bowl, whisk the cold cream until soft peaks form.

4

Add the vanilla seeds to the whipped cream and incorporate well.

5

Whisk the whipped cream and the cream cheese blend, then add the cream and gelatin, continuing to whisk until the mixture becomes light and creamy.
Assembly
1

Pour half the cheese mixture into the mould.

2

Add half the peach slices, keeping the more attractive ones for decoration.


3

Pour on the remaining cheese mixture, spreading evenly then cover with remaining peach slices.

4

Cover the cheesecake with saran wrap and refrigerate for 8 hours.
Tip
1

Warm the contour of the mould with a hot water dipped dish towel before unmoulding. Wipe clean the knife between each slice to have clean cut slices.