Nut and Maple Syrup Pie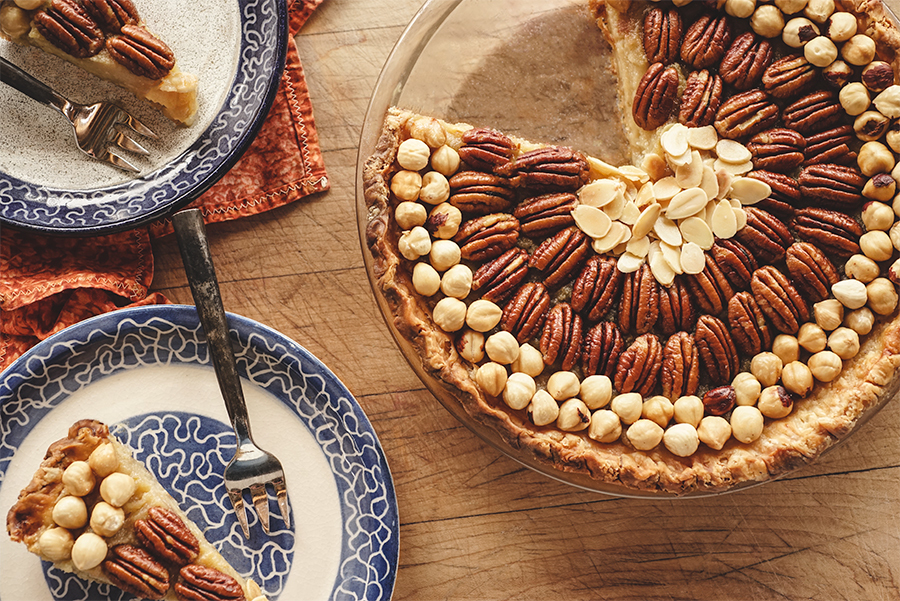 This amazing pie is rich and dense in texture – reminiscent of a French Flan –successfully blending fragrances of maple and roasted nuts. We like using an amber syrup for this type of recipe, the maple taste is more intense.
Ingredients
1 pie dough (see our recipe)
1 cup hazelnuts
1 cup pecans
1 cup slivered almonds
1½ cup amber maple syrup
½ cup 35% cream
2 Tbsp all-purpose flour
½ tsp salt
4 Tbsp un-salted butter
1 Tbsp Scotch OR Bourbon OR Whiskey
3 eggs
1 Tbsp maple dessert spice blend, ground
Method
1

Roast the hazelnuts, almonds and pecans separately (about 20 minutes 350 °F). Let cool. Remove the skin from the hazelnuts.

2

Line the pie plate with the pie crust.

3

Preheat the oven to 375 °F and place a grill on the lowest level.

4

Beat the maple syrup, cream, flour and salt together in a pan. Add butter.

5

Bring to a boil on medium-high, whisking continually, remove from the heat and let cool.

6

Once the mixture cools, whisk in the eggs and add the Scotch and the spices. Pour the mixture in the pie plate.

7

Put the pie on a bake sheet, in case of overflow, then place in the oven on the lowest grill. Cook for 15 minutes.

8

Lower the heat to 350 °F and continue baking for 15 minutes. Remove the pie from the oven and decorate with nuts.

9

Cover the pie with aluminum foil and cook for another 15 minutes or until the center is firm.