Octopus and Eggplant Curry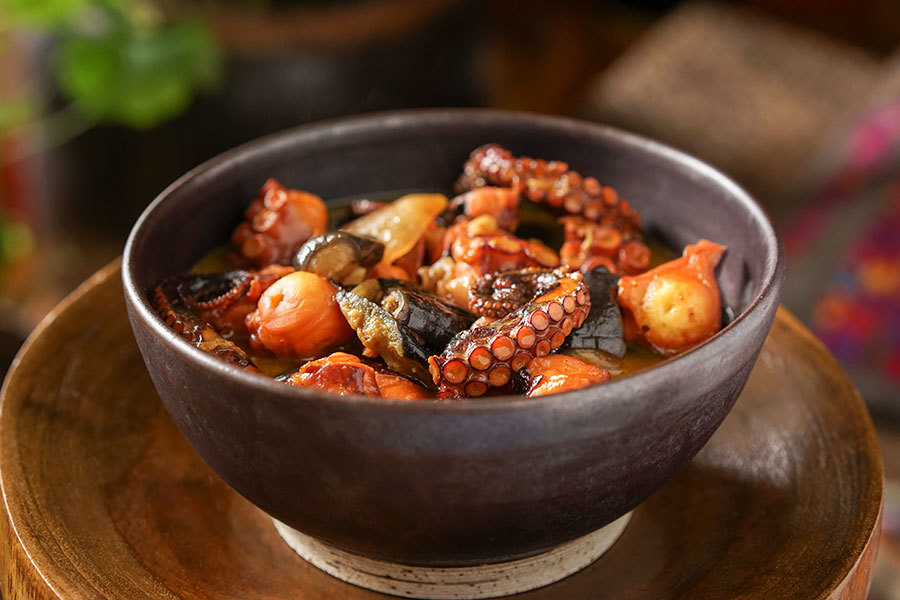 When cooked properly, like in a curry, octopus is tender and delicious. Use whatever curry you like and adjust the chile to your taste.
Ingredients
2½ lbs eggplant
2 Tbsp salt
1½ lb octopus, cleaned
6 Tbsp coconut oil
4 onions, quartered
1 Tbsp black pepper
1 tsp turmeric
2 Tbsp Mauritian Masalé or other curry
½ tsp cinnamon
Chile flakes, to taste
6 cloves garlic, chopped
2 Tbsp ginger, chopped
2 cups coconut milk
Salt to taste
Method
1

Cube eggplant. Place in a bowl with salt. Mix well and let stand 15 minutes to remove water.

2

Preheat oven to 350°F. Wash then chop octopus into 1-inch pieces. Heat an ovenproof pot on medium. Add coconut oil and onions, then cook until golden, 3-4 minutes.

3

Grind spices and add to the pot with the octopus, garlic, and ginger. Sauté for 5 minutes.

4

Rinse eggplant in running water and squeeze out as much juice as possible forcefully with your hands. Add to the pot with coconut milk. Cover and cook until steam escapes from under the lid. Place on the center rack of the oven and cook for 1½ hours. Let stand 30 minutes. Taste and salt if needed.