Octopus escabeche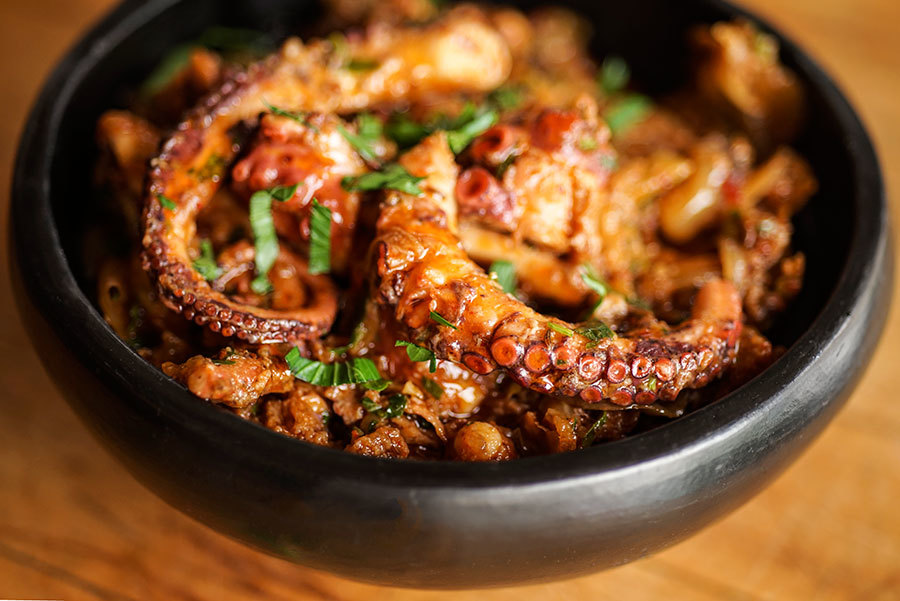 The principle of an escabeche is straightforward: simply place freshly cooked seafood into a vinaigrette and let it rest. It lasts for several days and actually improves with time.

This type of preparation once allowed fish to be kept for several days without refrigeration. These days we get to refrigerate our escabeche, making it even more practical. This version- a fusion of Spanish and Mexican flavors- works just as well with squid, mussels, shrimp, and pan-fried fish filets.

Ingredients
Finishing
3 cloves garlic, minced
½ cup fresh parsley, chopped
¼ cup olive oil
Method
1

Bring a pot of water large enough to accommodate the octopus to a boil.

2

Using a small, sharp knife, remove and discard the beak found at the center of the tentacles. Rinse octopus in running water. Pay particular attention to the head of the octopus- the inside can often hold a lot of sand.

3

Immerse the octopus in the boiling water and remove after one minute.


4

When the water returns to a vigorous boil, return the octopus to the pot. This additional step helps firm up the octopus and make it more tender. Reduce heat to medium-low when the water returns to a boil. Cover and simmer for 1 hour. The octopus should be tender but firm.

5

Place saffron in a small bowl and add ¼ cup of the octopus boiling water.


6

Grind spices and set aside.


7

Meanwhile, slice onions into ½-inch rounds. Place in a pot with the olive oil and cook on medium until the onions are just cooked. You just want to remove the raw taste from the onions, but keep them white.

8

Add minced garlic, bay leaf, and spices. Sauté 1 minute. Incorporate sherry vinegar. Boil gently for 10 minutes. Salt to taste.

9

Place cooked octopus on a plate and let cool. Reserve 1 cup of the octopus cooking liquid. You can also reserve the remaining liquid for a rice pilaf or soup.

10

Slice tentacles and head into 1-inch sections and place in the sauce. Bring to a boil. If needed, add some of the octopus cooking liquid to ensure the meat is all coated in the sauce. Let simmer for 5 minutes and transfer to a plate. Let stand for at least 1-2 hours.


11

Take the octopus out of the fridge at least 1 hour before serving, and incorporate parsley, garlic, and oil 30 minutes before serving.