Cajun Style Okra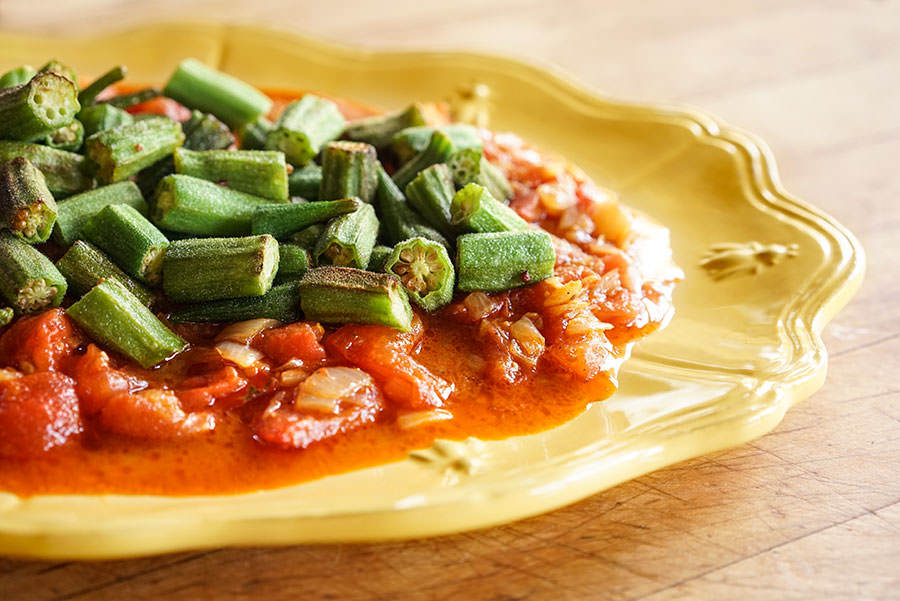 Okra is a vegetable with a famously squishy, almost gelatinous texture, and is a great way to thicken soups and stews, like the famous gumbo.
It's often used in African countries like Senegal and Ivory Coast, in some Mediterranean countries and India. It's also a favorite in the American south, particularly in Louisiana.
Ingrédients
2 cups okra
¼ cup oil for frying
4 Tbsp olive oil
3 tomatoes, blanched and peeled
1 onion, diced
2 cloves garlic, minced
1 Tbsp Cajun Spice, ground
Method
1

Clean okra and halve lengthwise.

2

Heat oil in a pan deep enough for frying. Fry okra for 3-4 minutes, then place on a paper towel to absorb any excess oil.

3

Chop tomatoes into large pieces.

4

Heat olive oil in another pot on low. Sauté onion and garlic until translucent.

5

Add spices and tomatoes, then continue cooking on low heat for around 30 minutes, stirring occasionally.

6

Add salt and pepper and stir. Pour sauce into a deep plate and place lay okra on top.