Old fashioned semolina gnocchis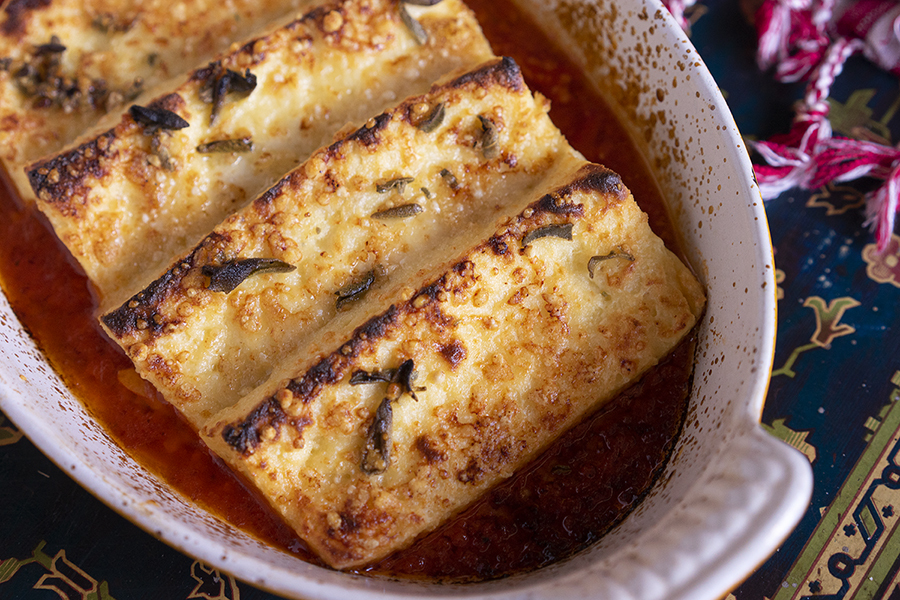 This recipe requires an extra bit of effort but, the gnocchis and sauce can be prepared a couple of days in advance. The final preparation takes about 5 minutes and only fifteen more minutes are required for cooking.
Ingredients
2 cups milk
⅔ cup wheat semolina, for the pasta
1 tsp mace, ground
6 Tbsp butter
¼ cup Gruyère, grated
¼ cup Parmesan, grated
3 egg yolks
1½ cups tomato sauce (see our recipe)
1 Tbsp sage leaves, dried
Method
1

Butter an 8 inch square mold and line the bottom with parchment paper. Set aside.

2

Pour milk into a non stick casserole, if possible. Heat on medium-high.

3

Place the semolina in a bowl with the ground mace and blend well.

4

Pay attention to the milk and when it reaches the boiling point, incorporate the semolina – sprinkling lightly – while constantly mixing with a whisk.

5

Mix until a thick coat forms. Continue cooking on low heat for 5 minutes, mixing constantly with a silicone spatula.

6

Remove from the heat and incorporate half the butter, Gruyère and half the Parmesan with a spatula. Incorporate the yolks one at a time.

7

Spread the semolina/milk coat evenly in the buttered mold. Place a plastic sheet on top to assist in levelling the mixture.

8

Refrigerate for at least one hour (can be done two days beforehand).

9

Heat the oven to 450 °F. Cut the gnocchis into 2 – inch x 4 – inch rectangles.

10

Pour the tomato sauce into a gratin dish. Place the gnocchis on the sauce so that they lightly overlap.

11

Melt the remaining butter along with the sage in a small pan. Brush the gnocchis with the melted butter. Sprinkle on the remaining Parmesan and bake for 15 minutes in the oven until hot and golden.