Old Fashioned Tomato Ketchup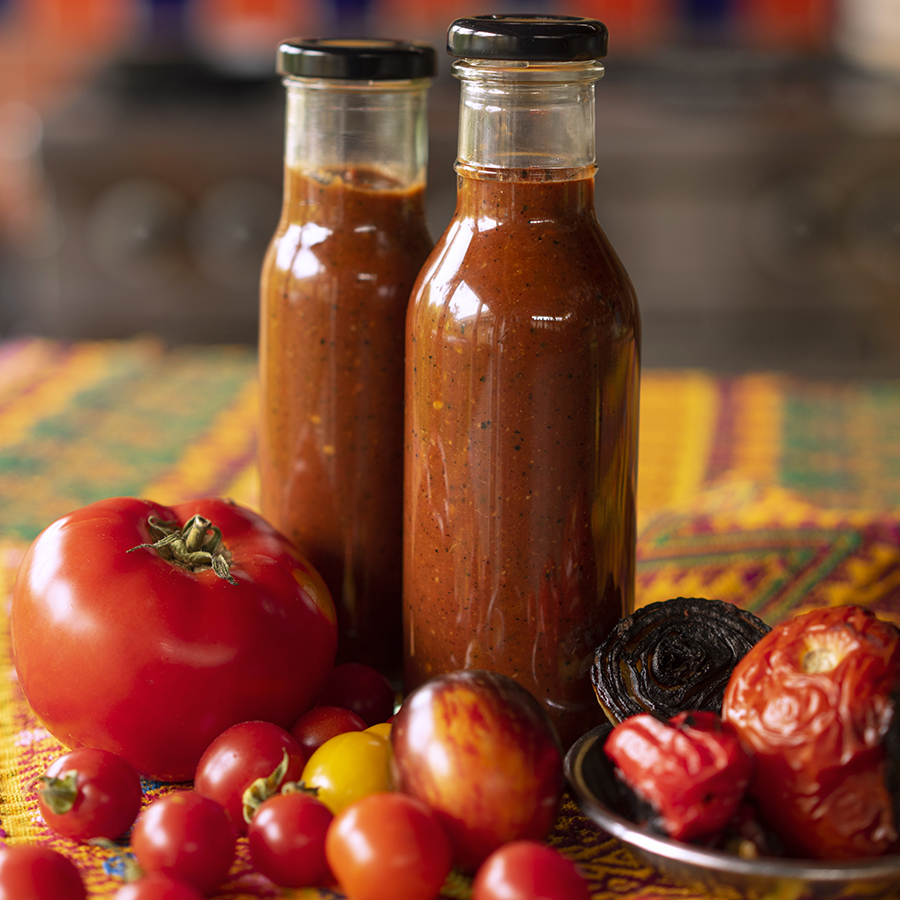 This ketchup goes back to the earliest days of Épices de cru, an era when we made and even sold condiments. It is in fact during this time that our now famous ketchup spice blend came to be!
The recipe is distinct primarily because the tomatoes and onions are roasted until blackened just before incorporating into the mixture, adding another layer of flavour to this homemade ketchup.
We used our ketchup spices for this recipe but we encourage you to use your own preferred spice blend.
Ingredients
5 lbs ripe tomatoes
1 large onion
1 cup red wine vinegar or cider vinegar
¾ cup maple syrup
6 garlic cloves
Sea salt, to taste
4 Tbsp Ketchup spice blend, ground
½ cup tomato paste
Method
1

Heat the oven to broil. Put the tomatoes on a baking sheet and grill them until the skins are blackened and peel off easily. Let them cool.

2

Cut the onion into thick slices and grill both sides, until blackened.

3

Peel and coarsely chop the tomatoes once they are no longer hot to the touch.

Place the chopped tomatoes, blackened onions, vinegar, maple syrup, garlic and salt into a pot and bring to a boil. Reduce the heat and let simmer while stirring occasionally.

4

Half hour later, incorporate the ground ketchup spices. Continue cooking until the ketchup thickens. Cooking times may vary depending on the amount of liquid in the tomatoes.

5

Incorporate the tomato paste and cook another 10 minutes. Reduce the ketchup to a paste, using a hand blender.

6

Taste and add, according to your standards, salt, vinegar or maple syrup. If the ketchup is too liquid, continue cooking until the desired texture is achieved.

7

Bottle while hot into sterilized glass containers. Close the covers properly.