Onion, Tomato and Mascarpone Frittata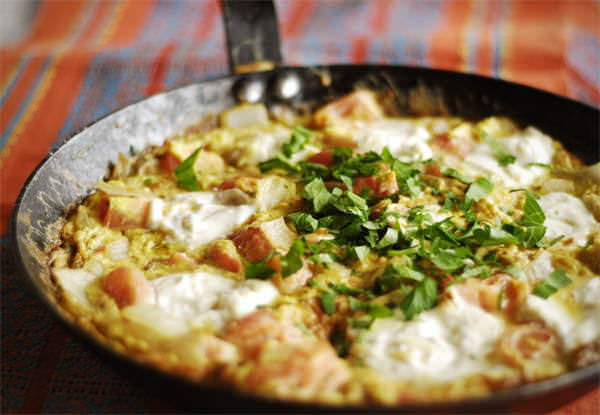 A flavourful, and filling vegetarian dish, that we like to serve with a simple green salad. 
Ingredients
1 Spanish onion
8 Tbsp olive oil
3 medium, ripe tomatoes
6 eggs
Salt
½ Tbsp Little Italy spices
125gr/4oz mascarpone
Fresh herbs to garnish
Method
1

Cut the onion in 1"/2.5cm cubes. Heat a pan on medium heat. Pour in the oil and cook the onion until it becomes slightly golden and sweet. Set aside.

2

Meanwhile, peel the tomatoes if you wish.  Cut in 1"/2.5cm cubes. Set aside.

3

Crack the eggs in a bowl; add salt and Little Italy spices. Beat well; add the onions and the tomatoes.  Mix well.

4

Heat a clean pan on high heat. Pour in the oil and once hot, pour in the eggs. Stir with a spatula to help the eggs set evenly. Once the eggs are setting, reduce the heat and using a spoon, insert the mascarpone randomly in the egg mixture.

5

Meanwhile light the broiler in the oven and once hot, place the pan under the grill to cook the top of the frittata for 2 or 3 minutes.
Serve the frittata in the pan, garnished with herbs.