Orange and carrot pilaf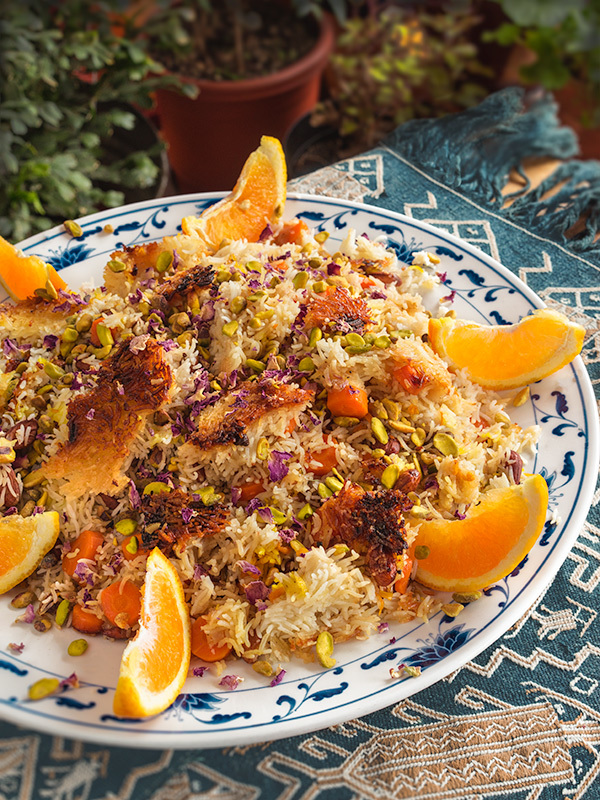 Throughout Central Asia there are many variations of this delicious saffron and orange infused rice dish, which is usually reserved for special occasions. While cooking, the rice caramelizes at the bottom of the casserole and forms a mouth-watering, crispy crust.
Ingredients
½ g saffron
2 oranges
2 cups Basmati rice
4 Tbsp olive oil
4 whole green cardamom pods
1 4-inch cinnamon stick
1 medium onion, chopped
3 cups carrots in rings
6 Tbsp sugar
½ cup pistachios
½ cup almonds
1 bay leaf
Salt to taste
2 tsp orange blossom water
¼ lb butter
Pistachios to garnish
Rose petals to garnish (opt.)
Method
1

Place saffron in a small glass with ¼ cup hot water. Cover and set aside.

2

Remove orange zest with a peeler, making sure not to remove the white pith. Cut zest into juliennes and place them in a casserole with 2 cups water. Bring to a boil for 5 minutes. Rince juliennes in a colander under fresh water. Drain and set aside.

3

Place rice in a large bowl, cover with water to wash. Drain and repeat 2-3 times until the water becomes clear. This makes for a lighter rice. Let drain in the colander for 15 minutes.

4

Meanwhile, heat a casserole on medium heat. Put oil, cardamom and cinnamon in the casserole.


Simmer until spices begin to brown. Incorporate chopped onions and cook until golden, 3-4 minutes, mixing occasionally.

5

Add carrots, orange zest, salt and pepper, mix well. Let cook for 2 minutes then add sugar and 1 cup of water.


Cook for 10 minutes. Add pistachios and almonds. Set aside.

6

Place rice in a large pot with 2 cups water, salt and bay leaf. Bring to a boil, cover and cook for 12 minutes on medium heat.

7

Delicately incorporate orange blossom water, carrots and their liquid into the rice, using a wooden spoon so as not to make the rice pasty. Sprinkle the saffron infusion.

8

Insert the wooden spoon handle into the rice until it touches the bottom of the pot to make a ½-inch hole. Make ten more such holes and insert a lump of butter in each. This allows the formation of a crispy crust at the bottom of the pot. Cover well and cook for 30 minutes on low heat.

9

Remove the pot from the heat and let rest for 10 minutes before placing the pilaf in a dish. Remove the crust at the bottom of the pan using a spatula and place the crispy, golden pieces on top of the rice.

10

Garnish with pistachios and rose petals.