Orange and Pistachio Cake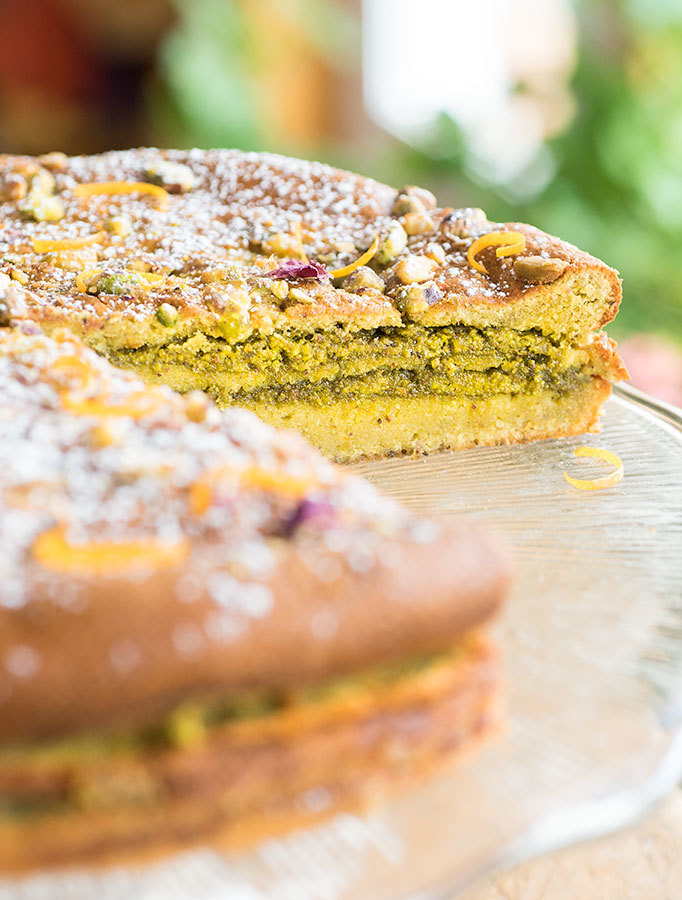 Pistachios, orange and cardamom are an incredible combination for desserts. Since it contains no flour, it's quite dense.

Poached orange
Cake
¾ cup blanched, sliced almonds
½ cup pistachios
¾ cup sugar
1¼ cup almond powder
4 cardamom pods, ground
1 large pinch salt
6 eggs
Butter and flour for the mold
2 Tbsp chopped pistachios
Pistachio cream
½ cup pistachios
¼ cup icing sugar
¼ lb unsalted butter, softened
Syrup
½ cup poached orange cooking water
4 Tbsp Grand Marnier
2 tsp orange blossom water or rose water
Garnish
Method
1

The day before, place orange in a small pot with enough water to cover it. Boil for 5 minutes on high heat to remove the bitterness. Discard water.

2

Pour sugar in a pot, add orange and enough water to allow the orange to float. Bring to a boil, cover, then simmer on very low heat for around 2 hours. Let rest, covered, overnight, at room temperature.


3

The next day, remove orange from the pot. Slice in half and remove seeds if needed. Place orange, flesh side down, in a colander placed over a bowl to drain it.

4

Set a half cup syrup aside for the Grand Marnier syrup. The rest can be used for another use (a lemonade or fruit salad, for example).

5

Preheat oven to 325° F. Butter and flour a 9-inch springform pan.

6

Place almonds, pistachios, and sugar in a food processor and reduce to a fine powder. Add almond powder, ground cardamom and salt, then mix well.


7

Add orange and reduce to a fine paste, adding the eggs one at a time.

8

Pour the mixture into the buttered, floured pan. Place chopped pistachios on top.

9

Bake for 30 minutes. Rotate cake halfway during cooking, then check its doneness with a toothpick. Continue cooking until the toothpick comes out clean (around 20 minutes). Remove from oven and let rest 3-24 hours.


10

Mix remaining syrup ingredients in a bowl.


11

To make the pistachio cream, place pistachios and icing sugar in a food processor and reduce to a fine paste. Incorporate butter.

12

Remove cake from pan and slice in half horizontally.

13

Drizzle the two halves of the cake with the syrup. Spread the pistachio cream on the bottom half. Place the other half on top.


14

Sprinkle with icing sugar and garnish with rose petals.