Orange and Fennel Focaccia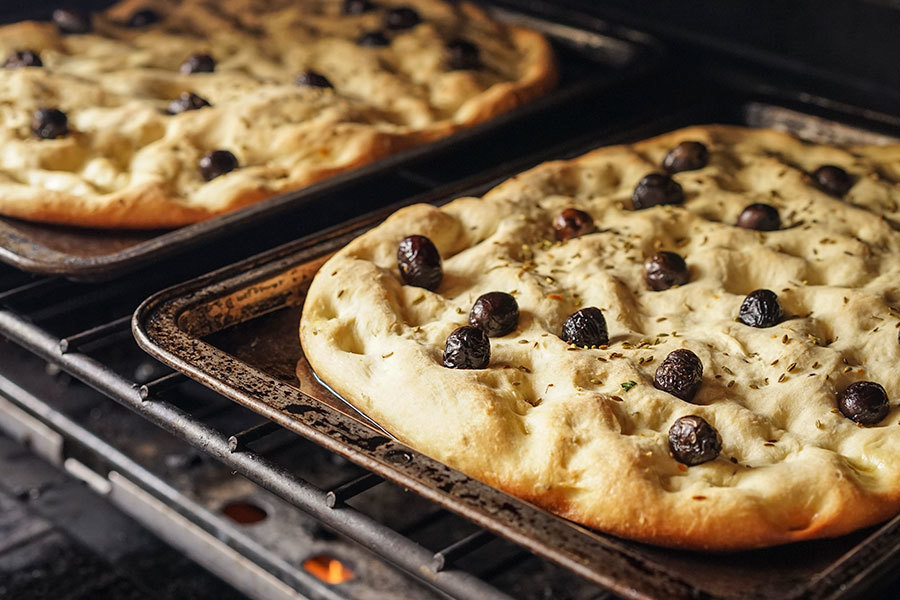 The focaccia can be served plain or paired with good olive oil. If you want, before baking, you can add feta cheese, fold the dough over and flatten using a rolling pin.
Ingredients
2 tsp yeast (1 packet)
---
1 tbsp honey
---
1 cup warm water (110 °F)
---
1 orange
---
3 cups un-bleached flour
---
1 tsp salt
---
2 tbsp fennel seeds

---
¼ cup olive oil
---
12 olives (opt.)
Method
1

Place the yeast, honey and warm water in a bowl. Mix well and let rest for 15 minutes.

2

Remove the orange zest using a paring knife then chop finely. (The zest can also be grated, but the results won't be as delicious).

3

Pour flour, salt, 1 tbsp fennel seeds and orange zest into a large bowl. Mix well.

4

Squeeze the orange juice into the bowl once the yeast begins to foam.

5

Add yeast and 1 tbsp olive oil to the flour. Hand mix immediately until the dough becomes sticky enough to make a ball.

6

Place the ball on a flat surface and knead for 5-6 minutes, until the dough becomes elastic and no longer sticks to the hands.

7

Pour another tbsp olive oil into the bowl and roll the ball of dough in the oil until it's completely coated. Cover and let rest one hour or until the dough has doubled in size.

8

Meanwhile, heat the oven at 425 °F.

9

Oil a baking sheet (12 inches x 15 inches) using the left-over olive oil. Place the dough on the baking sheet. Spread and stretch the dough using your finger tips to form a rectangle. Place the olives on top.

10

Bake until the dough becomes golden, approximately 12 minutes.

11

Remove from the oven, stream on some olive oil and salt to taste.