Osso Buco with peas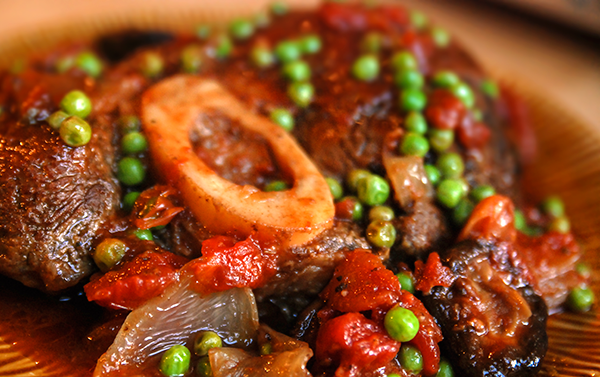 The veal is beautifully complimented by the heat and the freshness of the Satay blend.
Ingredients
4 slices of veal shank
2 tbsp Satay Spices, ground
2 tbsp flour
4 tbsp olive oil
3 Spanish onions, quartered
20 rehydrated shiitake mushrooms
2 tbsp ginger, chopped
2 tbsp sage
1 tbsp dark soya sauce
¼ cup Madeira or sherry or white wine
1¼ cups of canned tomatoes
2 cups of shelled peas
1tsp grated lemon zest
Method
1

Season the shanks with the spices then flour both sides.

2

Heat a frying pan on medium heat and brown the shanks in the oil (3–4 minutes per side).

3

Remove the shanks and place in a roasting pan.

4

Brown the quartered onions, add them to the roasting pan with the veal and place in the oven at 400ºF (200ºC) for 30 minutes.

5

At this point prepare the sauce. Discard the shiitake tails and sauté the caps in a pan (1–2 minutes per side). Add the ginger, sage, soya sauce and Madeira, cook for 2 minutes more, then add the tomatoes and ½ a cup of water.

6

Let simmer on low heat for 5 minutes, then set aside.

7

Pour the sauce over the shanks after they have baked for 30 minutes and cover with aluminum foil. Lower the heat to 325ºF (160ºC) and braise until tender (1–1½ hours).

8

Add the peas and lemon zest to the roasting pan and mix well. Re-cover and cook 15 minutes more.

9

Remove from the oven and let rest for 30 minutes before serving.