Oven-Baked French Fries with Sumac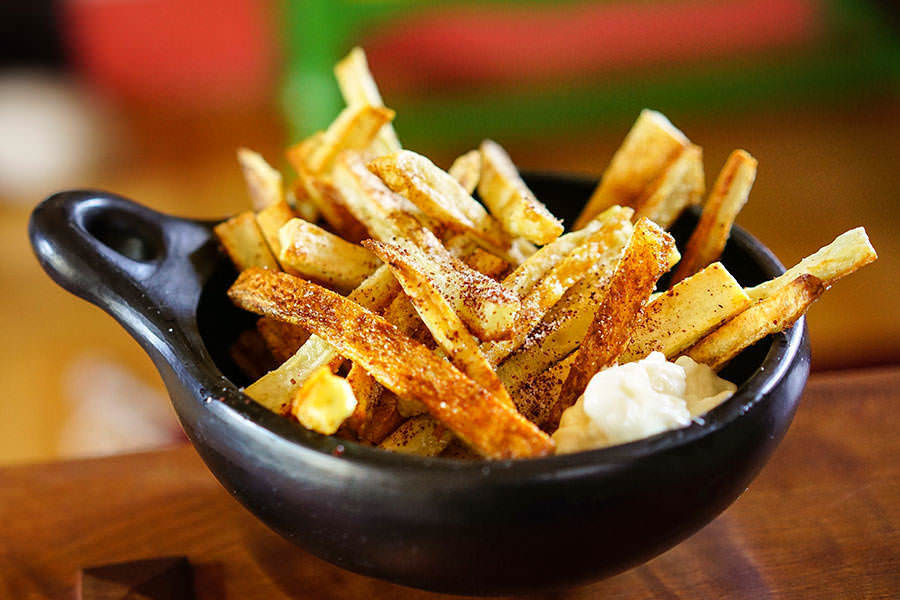 This quick, simple recipe is a great way to liven up french fries. Oven roasting the fries is better when using olive oil, a natural accompaniment to sumac. The result is a crispy, salty-sour combo that goes well with… well, pretty much anything.
Ingredients
3 large russet potatoes
4 Tbsp olive oil
2 Tbsp sumac, ground
1 ½ Tbsp salt
½ cup mayonnaise
3 cloves garlic, grated
Method
1

2

Preheat oven to 400 °F.

3

Slice the potatoes into medium-thick strips, place in a large bowl and cover with water. Soak potatoes for at least 20 minutes, changing the water once, to extract excess starch.

4

Toss potatoes in olive oil and lay on a baking sheet. Make sure not to crowd them, or they won't crisp. Put in the oven and roast for 20-25 minutes, until sizzling and beginning to crisp.

5

Meanwhile, put mayonnaise in a small bowl and grate the garlic on top. Add 1/2 tbsp salt and mix well. Set aside.

6

When the fries are about down, turn up the oven to 450°F and roast for another 5 minutes or so depending on how crispy you want them.

7

When ready, remove fries from oven and sprinkle with sumac and remaining salt. You can sprinkle it directly on the roasting pan, but you may want to first move the fries to your serving platter, then season them. Feel free to add more or less sumac depending on taste.

8

Serve fries with garlic mayo.