Stir-fried bok choy and mushrooms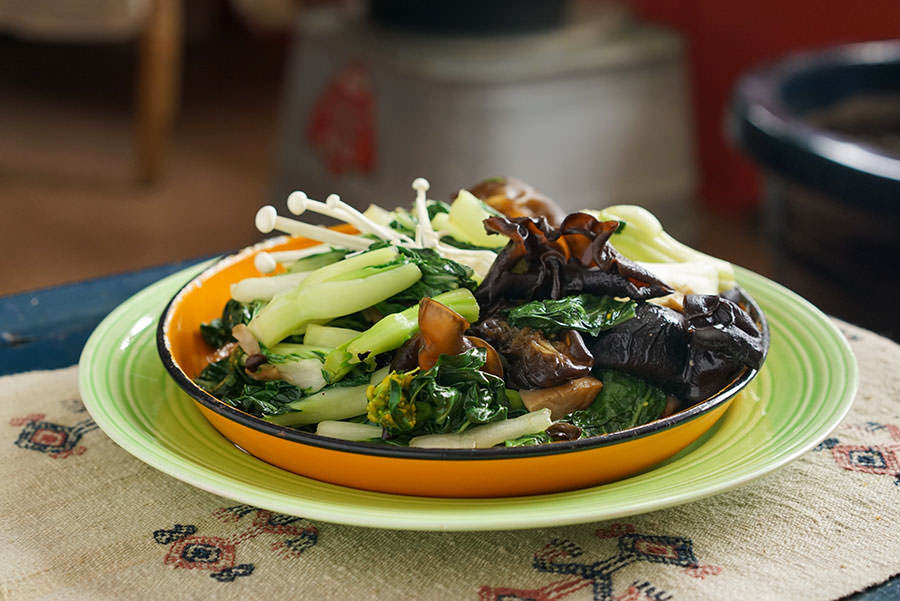 A good recipe that can be used for most Chinese vegetables. Ideally, if you have time, soak the green vegetables for 30 minutes in cold water to wash them well and rehydrate them a little.
Ingredients
2 cups fresh and/or rehydrated mushrooms
1 medium bok choy or other Chinese vegetable
2 Tbsp arrowroot powder
¾ cup chicken stock or mushroom soaking water
4 Tbsp duck fat or coconut oil
2 cloves garlic, chopped
Salt and pepper to taste
2 Tbsp coconut aminos
1 tsp fish sauce
2 Tbsp sesame oil
Method
1

Slice or chop mushrooms so they are mostly the same size and will cook evenly.

2

Wash bok choy and drain well. Ideally, run it through a salad spinner to remove as much water as possible. Slice into 2 inch pieces. Separate stems from leaves.

3

Stir arrowroot powder into ¼ cup water.

4

Heat a cast-iron pan or wok on medium. Add half the duck fat when the pan is hot. Sauté mushrooms for 2 minutes, until they begin to color. Transfer mushrooms to a bowl.

5

Add remaining fat and sauté garlic and bok choy stems. Salt and pepper. Sauté 2-3 minutes. If the pan dries out during cooking, add a few spoonfuls of water or white wine to make some steam.

6

When the stems begin to cook, add the leaves, the half-cooked mushrooms and the stock. Stir well and cook 1 to 2 minutes, stirring on occasion.

7

Remove pan from heat. Stir the shiitake water/starch mixture well and pour into the pan along with the coconut aminos. Return pan to the heat, stirring continuously until the sauce begins to thicken and coat the vegetables.

8

Pour onto a large plate immediately to stop the cooking.