Palak paneer – Indian cheese with spinach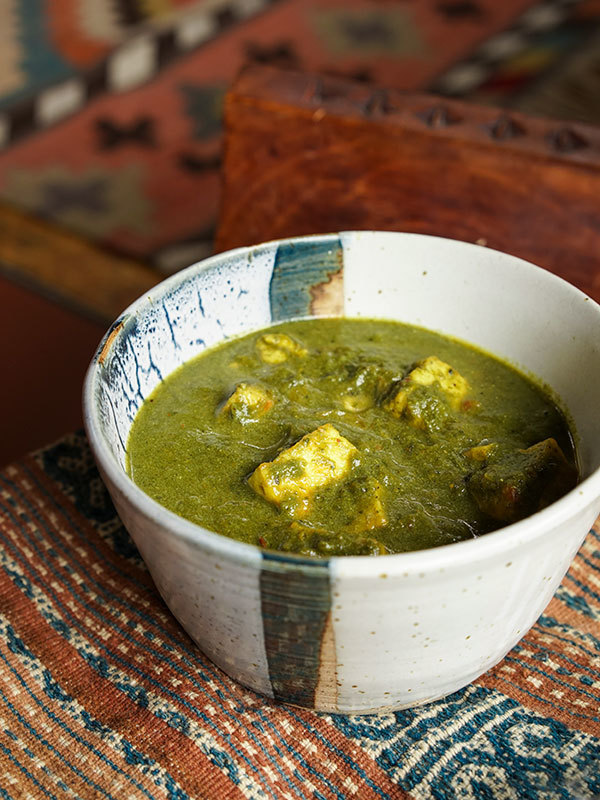 Palak paneer is one of the most popular dishes in Indian cuisine. It takes some time to prepare, but the various steps are quite simple. To make the paneer cubes crispy on the outside and soft on the inside, you should soak them in very cold water after frying.
Ingredients
1 pack paneer (400g)
Oil for frying
¼ inch ginger
2 garlic cloves
1-2 hot, fresh chilies
1 large onion
1 Tbsp cumin
2 small bunches spinach
2 Tbsp oil
1 small tomato, diced
¼ cup yogurt
4 Tbsp cashews, ground
Salt to taste
1 tsp Garam Masala, ground
¼ tsp fenugreek leaves (opt.)
Préparation
1

Cut the paneer into 1 cm cubes.

2

Heat a pan on medium-high and add oil. Fry the paneer cubes until they become golden. Transfer the cubes into a bowl and cover with cold water.


Remove the oil from the pan, except for 1 Tbsp.

3

Purée the ginger, garlic and hot chilies. Set aside.


4

Slice the onion and place it in the pan. Add half the cumin and sauter until the onion is golden.


Allow to cool, then puree.

5

Clean the spinach and place in boiling water for 3-4 minutes. Drain, then puree.


6

Heat a pan on medium heat, add 2 Tbsp oil. Add the remaining cumin and the ginger and garlic paste, sauter for a few seconds. Add the tomato, onion puree and cook on medium-high heat for 5 minutes.


7

Add yogurt, ground cashews, spinach puree and the paneer. Mix well and add a little water, if the sauce is too thick.


8

Add salt, Garam Masala and fenugreek leaves. Mix well and let simmer for 5 minutes.