Panch Phoran Shrimp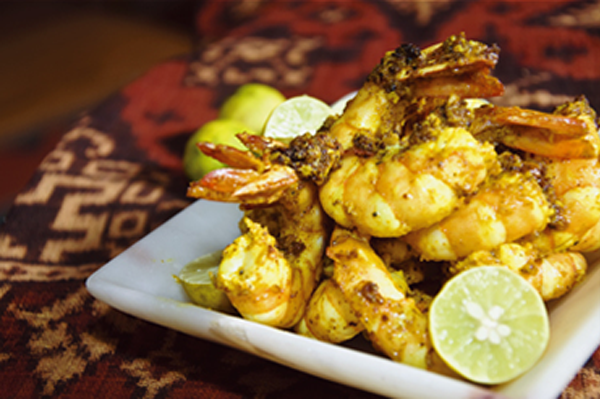 Panch phoran, the classic Bengalese masala, is a very versatile blend that is commonly added whole and roasted in the early stages of the recipe.
The blend comprises equal parts fennel seed, black mustard, cumin seed, nigella and fenugreek.
Ingredients
1 lbs. large shrimps
1 Tbsp Panch Phoran
6 cloves garlic, peeled
1 Tbsp turmeric
1 Tbsp Garam Masala
1 tsp Black Pepper
1 tsp hot chile, crushed
Salt
3 Tbsp white vinegar or lime juice
Splash vegetable oil (canola, sunflower, olive)
Lemon, sliced into quarters
Method
1

Shell, rinse and pat the shrimps dry.

2

In a mortar and pestle, grind the spices and the salt. Add the garlic and pound into a coarse purée. Add the vinegar.

3

Marinate the shrimps for 30 minutes.

4

In a frying pan over medium heat, add ¼-inch of oil.

5

Fry the shrimps until golden brown (approx. 1½ minutes on each side).

6

Serve with lemon wedges.