Panch Phoran, Tomato and Spinach Salmon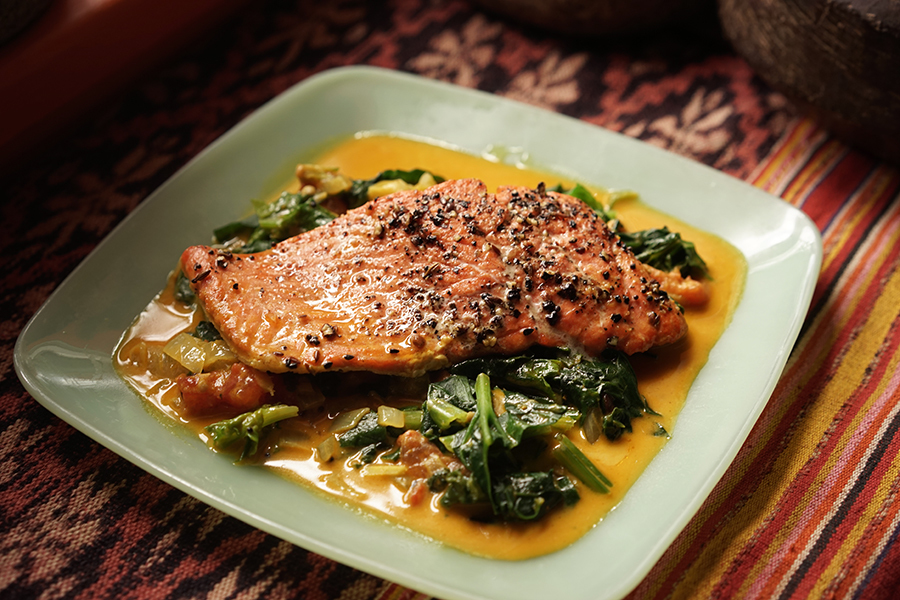 Panch Phoran, a classic spice blend from east India, works wonders on this salmon dish, without masking the delicate flavour of the fish. Serve with rice or Naan bread
Ingredients
4 salmon filets (200 gr. each)
2 tsp salt
2 tsp pepper, cracked
3 Tbsp ghee OR coconut oil
1 ½ Tbsp Panch Phoran, whole
1 onion, chopped
4 Tbsp ginger, chopper OR 1 Tbsp dry ginger, ground
2 tsp turmeric, ground
4 tomatoes, diced
1 large bunch spinach, chopped
½ cup yogurt OR coconut milk
Method
1

Salt and pepper salmon. Set aside. Prepare the remaining ingredients.

2

Heat the ghee in a pan on medium and cook the Panch Phoran for a few seconds until the spices darken lightly.

3

As soon as the spices are brown, add the onion, ginger and turmeric then cook for 3 to 4 minutes until golden.

4

Add the fish and colour for 1 minute on each side.

5

Remove the fish from the pan, add the tomatoes and ¾ cup water. Simmer for 10 minutes.

6

Meanwhile, vigorously whisk the yogurt until creamy.

7

Return the fish to the pan, add the spinach and yogurt. Cover and let the fish simmer gently for 3-4 minutes.