Dhaba Masala Paneer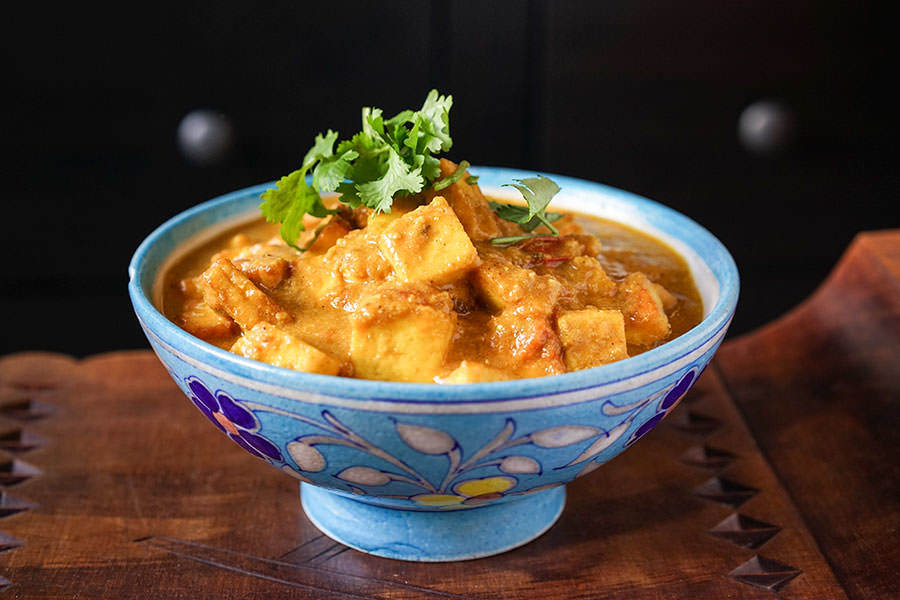 This recipe comes to us from our colleague Varsha, who is a true master of Indian family cooking, particularly when it comes to the cuisine of Gujarat, where she's from.
Paneer is a cheese that doesn't melt, common in India. It's usually cooked in cube form, a little like tofu.
In this recipe, the paneer is fried before being finished in the sauce, which makes it crisp and golden. As always, if you don't want to fry it, just add the cubes to the sauce at the beginning of cooking.
Ingredients
1 package paneer (400 g)
Oil for frying
2 large onions, sliced
2 tomatoes
1-2 fresh green chilies
1 inch fresh ginger
2 cloves garlic
½ tsp cumin
1 tsp paprika
1 tsp Dhaba Masala, ground
¼ cup cashews, ground
Salt to taste
1 Tbsp yogurt
1 tsp Garam Masala (opt.)
Cilantro
Method
1

Chop paneer into ½-inch cubes. Fry it in oil until golden. Transfer to a bowl filled with cold water.

2

Heat 2 Tbsp of oil in a pot on medium. Cook onions, stirring occasionally, until golden. Let cool.

3

Purée the cooled onions with a food processor. Set aside.

4

Dice tomatoes.

5

In a food processor or mortar, make a paste with the ginger, garlic and chile.

6

Return 1 Tbsp of oil to the pot and turn on medium heat. Add cumin, fry for 2 seconds, and add tomato paste and the ginger and garlic paste. Stir well and add paprika.

7

Add tomatoes, Dhaba Masala and cashews. Salt, stir well and cover. Cook around 15 minutes on medium-low, stirring once in a while, until tomatoes are completely falling apart.

8

Add onion purée and yogurt. Stir and add paneer and Garam Masala. Add some of the paneer soaking water to thin out the sauce if needed.

9

Garnish generously with cilantro and serve.