Papa a la Huancaína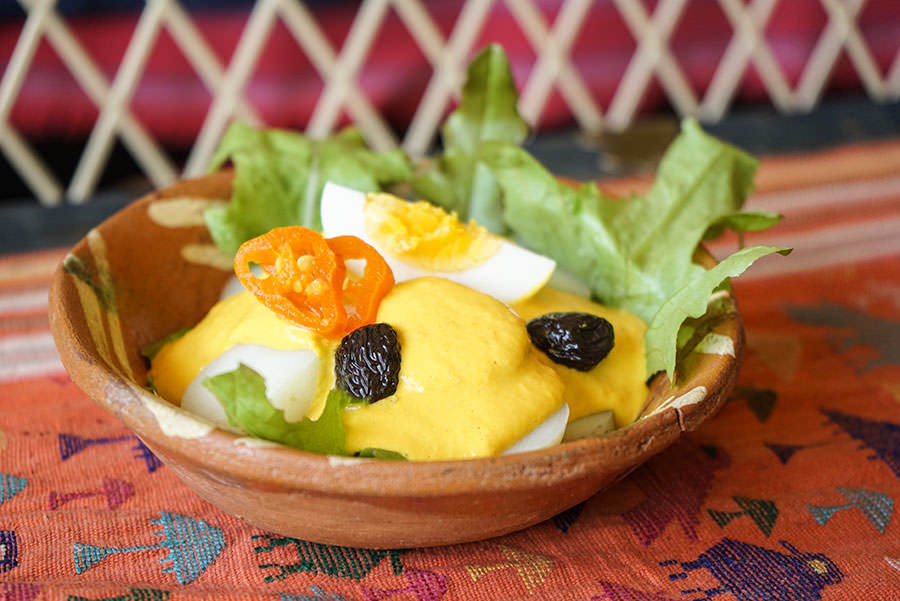 This cold potato dish is a Peruvian classic. The sauce, lightly flavored with Aji Amarillo, keeps for 2-3 days in the fridge and is a great veggie dip or even pasta sauce.
Ingredients
2 lbs new potatoes
6 lettuce leaves
3 hard-boiled eggs
Black olives
Huancaína Sauce
3 soaked Ajis Amarillo or ¾ cup Aji Amarillo paste
100 g queso fresco or feta cheese
4 saltines or crumbs from one slice of bread
¾ cup milk
1/3 cup olive oil
Salt to taste
Method
1

To make the sauce, place ajis in a food processor. If using whole, rehydrated ajis, then purée them for 5 minutes. If using aji paste, proceed to step two.

2

Add remaining sauce ingredients and purée. Set aside.

3

Boil potatoes in salted water until they are cooked but still somewhat firm. Drain and dry completely.

4

Place lettuce leaves on a large plate. Slice potatoes and lay on lettuce leaves.

5

Pour the sauce over the potatoes and garnish with hardboiled eggs and olives.