Paprikás Csirke - Chicken Paprikash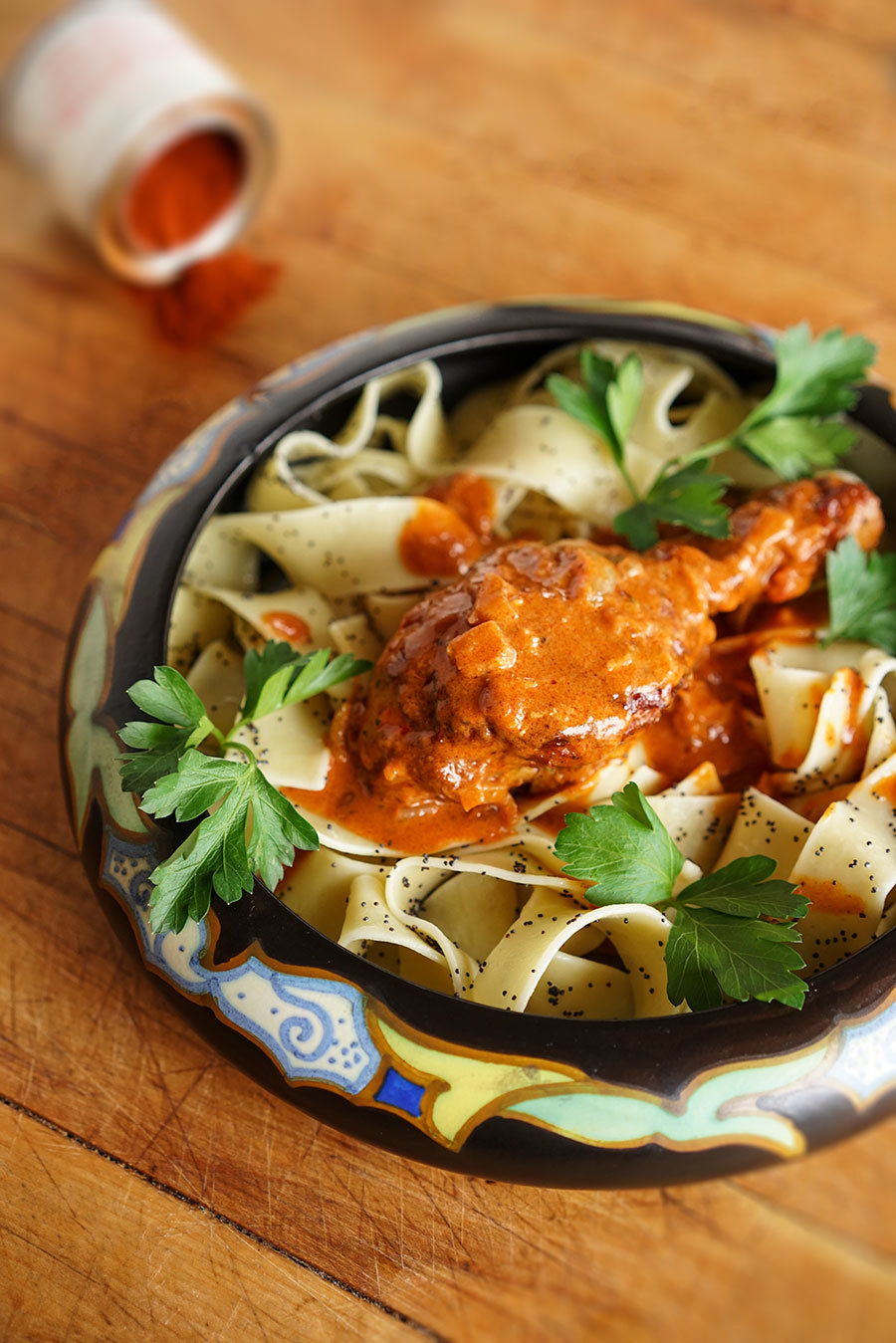 Chicken paprikash is an emblematic dish in Hungary, where paprika plays a major role in a wide variety of recipes. We like serving it with poppy seed-egg noodles, but it's equally delicious when served with spaetzle or boiled potatoes.
Ingredients
6 chicken thighs
Salt and pepper, to taste
3 Tbsp butter
3 Tbsp olive oil or vegetable oil
2 onions, chopped
4 garlic cloves, chopped
2 Tbsp Sweet Hungarian paprika
1 Tbsp Hot Hungarian paprika or ½ tsp ground cayenne
1 Tbsp flour
2 Tbsp tomato paste
1 diced, fresh tomato or ½ cup canned tomatoes
½ cup fresh cream
Parsley to garnish
Poppy seed noodles
1 paquet large, egg noodles (450g)
4 Tbsp butter
4 Tbsp poppy seeds
Black pepper, to taste
Method
1

Place chicken in a bowl, salt and pepper generously.

2

Heat a casserole with butter and oil on medium. Add chicken once butter foams. Brown for 5 minutes on each side. Remove chicken from the casserole.

3

Add onions and cook 5 minutes to brown. Add garlic, both paprikas and flour. Cook one minute then add tomato paste. Mix well and add tomatoes and one cup boiling water.

4

Bring to a boil and place chicken in the sauce. Cover and simmer on low heat for approximately 30 minutes to thoroughly cook chicken.

5

Remove chicken. Pour ½ cup of sauce in a bowl then incorporate cream. Pour into the casserole. Mix and return the chicken and garnish with parsley.
Poppy Seed Noodle
1

Cook the pasta according to manufacturer's instructions. Set aside ½ cup cooking water. Drain pasta.

2

Pour the ½ cup of cooking water into a casserole with butter and poppy seeds. Pepper generously. Bring to a boil, return drained pasta to the casserole and mix well.

3

Put pasta in a dish and place the chicken and sauce on top or serve individual portions on plates.